Travel
Helpful New York City Tips for First-Time Visitors
If you are planning on visiting New York City for the first time then you must prepare. This is such a big city that it can take weeks and months to see everything you would want to see. This is why if you will be here for only a short period of time, you need to know what is the best way to use it. And for that, you need some tips. As we know just how to make the most out of your short stay in New York City, we wrote these helpful New York City tips for first-time visitors.
Find a good location to stay in
If you are visiting New York City for the first time, one thing you must do is make sure to find a place to stay. And that is going to be easy in New York City. There are hundreds of hotels as well as AirBnBs that you can stay in. But a lot of people make the first mistake when they are booking accommodation. We believe that if this is your first time here, you should definitely splurge and find a room somewhere in the center of the city.
Doing this has many benefits. The only downside is the fact that you need a lot of money in order to stay in the city center. But it is worth the money. By staying somewhere in the center, you will be able to walk everywhere. This will save you a lot of time as well as a lot of money as you will not have to use public transportation that much or taxi services.
Staying in the center also allows you to spend a lot more time exploring the city rather than traveling through it as you will be able to easily reach anything you desire. New York City is well-connected and if you organize your trip right, you will have enough time to see everything.
Where to stay?
If you do not know much about NYC, we are here to tell you a couple of neighborhoods where looking for accommodation is a good idea:
Financial District
SoHo
Upper East Side
Upper West Side
Long Island City (Queens)
Midtown Manhattan.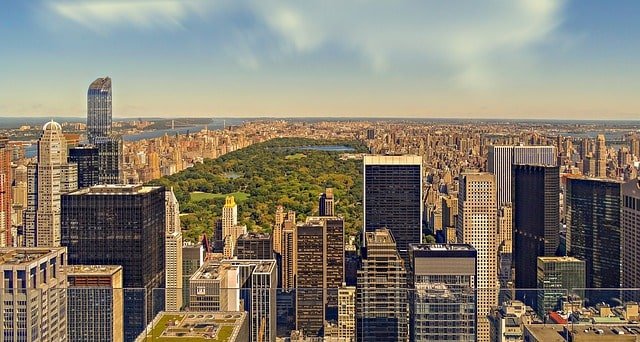 Beware of pickpocketing
One of the most important New York City tips for first-time visitors is a thing you must always have in mind and that is the fact that NYC is a city with a lot of people among which a lot of pick-pocketers roam. Plenty of people have been victims of pickpocketers and that is not something you want to experience.
There are plenty of things that could happen besides getting your money stolen. They could steal your important documents by accident not just your money. If you see that you are being pick-pocketed and you react to it, you could also get in trouble if the person doing it feels like it. You never know who you can run into which is why it is best to just keep an eye out for pickpocketers all the time but also keep your belongings safe with you. Carrying your backpack in front is the best way to prevent anybody from stealing anything from you.
In case you brought a lot of stuff if you are traveling through America and you don't feel safe leaving them in your paid accommodation, it's best to find a safe unit where you can put these things away. Storage units are to be found throughout the entirety of NYC.
There are plenty of things to see outside of Manhattan
Unfortunately, a lot of first-time NYC visitors stay inside Manhattan during their first stay. This is something we don't recommend. Manhattan is beautiful and it is rich with sights and things for you to do. But it is not the only interesting part of New York City.
In fact, a lot of residents of New York say that Manhattan is the least interesting part of the city even though it is the most popular one. There are plenty of other parts of New York City that you will like. Some of them you might like more than Manhattan as they are less busy and crowded.
There are plenty of beautiful parks other than Central Park. Lots of museums are located throughout the entire city where you can see amazing exhibitions from modern and well-known artists. Beautiful architecture can be found everywhere in New York City. If you are a fan of old classic NYC buildings, you will find a lot of them outside of Manhattan. There are lots of selfie spots outside of Manhattan too!
Find affordable food places
As you know already, New York City is crazily expensive. And this is not only when accommodation is in question but everything else as well. This also means that you will spend a lot of money on meals while you are there. And if you are on a road trip, you don't want to spend a lot of money on food. But that is if you are not prepared. And as you are reading these helpful New York City tips for first-time visitors, this will not be the case.
We are here to advise you to find affordable restaurants for the food you love to eat. As NYC is huge, there are restaurants of all types to be seen on every step. But most of them are on the pricier side. You have to research where you can find to eat good but affordable food.
We are here to make it a bit easier so here is a list of places you might want to consider:
Unapologetic Foods' Rowdy Rooster
Punjabi Grocery & Deli's
Pata Paplean
Noodle Village
Cale 191 Pescaderia
Jerk House.
There are plenty of options for you explore. These are just some of our favorites.
Find out how to use public transport in NYC
Even if you do stay in the center of the city, you need to know just how to use public transportation. It is very easy to get lost in NYC which is why you have to pay close attention to which train you are entering. This is especially important for those who are on a business trip in NYC as public transport is the fastest way to move through the city.
You do not want to lose much of your precious time in public transport because you have made a mistake. Especially if you are staying for a couple of days. This is why we advise you to look up and find the best routes to the places you want to visit and make a detailed plan on when you will go and see all the things you want to see. This is another one of many important and helpful New York City tips for first-time visitors.