Education
How to Get A Forklift License in Canada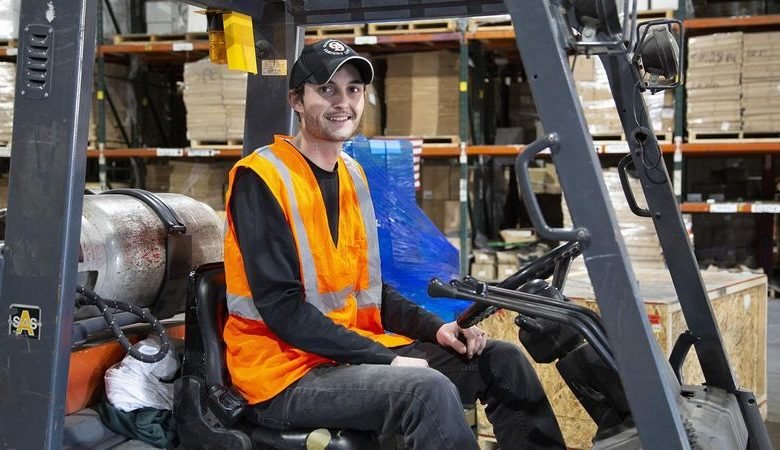 If you are involved in a job where you need to operate a lifting device, then it is important for you to know the steps you should follow to obtain a forklift license in Canada. Proper training in this field will not only help you get a forklift certificate, it will also make you a skilled and safe forklift operator. Besides this, it is a legal requirement as well.
Forklift License in Canada
In Canada, people commonly use the term forklift training or certification instead of forklift license. Government employees do know about the significance of the forklift certification due to the rise in accidents and accidental deaths. The government has become strict about this and workers and employers should cooperate.
Benefits of obtaining a forklift license
Forklift certificate is essential to establish a safe work place.
It increases your chance to get selected by an employer
Trained forklift operators are well aware of the mechanism of equipment which helps in reducing equipment maintenance cost
If government inspectors visit your office premises, it can save you from citation and penalty
5 Steps to Gain Your Forklift License in Canada
To enjoy the above mentioned benefits, you need to obtain the forklift certificate. Here are the steps you can follow to grab your forklift certificate in Canada
1. Look for the course that meets the requirements of Canadian standard Association
In the third edition CSA B335, the Canadian Standards Association (CSA) has mentioned about the safety standard for lift trucks. The main objective behind setting the standard is to point out the key elements of a lift truck safety program. It has also specified the minimum qualification that a lift truck trainer or maintenance technician and personnel must have. This has been done to promote safety and reduce the risk of accidents. That is why it is crucial for you to select a Forklift driving school Mississauga that successfully meets the requirements mentioned in this standard.
2. Make sure that your course include practical class of forklift that you will be operating
While choosing a forklift training center for yourself, you need to keep in mind that not all forklifts are the same. So don't forget to check whether the course you choose teaches you the operations of the particular lift truck that you will use in your workplace. These forklifts can be classified into 7 categories. It is mainly categorized on the basis of the fuel used to power it and the purpose for which it is used.
3. Attend lectures included in the training course
Just like any other course, you need to be attentive towards the theory classes of the course to understand the theory that works behind the training. Studying this will help you better understand the safety measures and the risks associated with operating a lifting device. Some of the common topics that are covered in a comprehensive in-class training course include
Guidelines of CSA
The design and stability of a lift truck
Safety rules
Classification of lifting devices
Provincial and federal legislation etc
4. Attend the practical classes in the training course
Attending practical classes is equally important in this training course as it allows you to practice on an actual lifting device. Make sure that you learn efficiently the usage of the forklift that you will be operating in your job under professional guidance and not on your own. Practicing will surely improve your skills in handling the lifting device.
5. Get tested by a certified trainer
In this training, evaluation is done through both written and practical tests. The written test is to determine whether you have understood the principles of operating a forklift and the practical test is to determine whether your have learnt about safety measures or not, so that you can easily operate the vehicle that you are trained on.
There is nothing called a forklift license in Canada but you need to have a valid certificate to prove that you have completed the lift truck training course. This particular certificate requires to be reviewed at every three years which has to be signed by a competent individual who can prove that you have done the hands on practical evaluation.
8 Useful Tips to Operate Forklift Safety
When it comes to the warehouse environment, a forklift is an ideal choice. It is designed specifically for the tight corners, safety concerns and convenience needs of a warehouse. In order to operate a forklift, you don't need a license; you only need to be forklift certified. However being trained before applying for a job in this field is always considered as an advantage as your employer does not have to make arrangements to train you for the job. This also increases your chances of getting hired. In this blog I have come up with some useful tips that will help you operate forklift safely.
1. Examine equipment before use
Before driving, a forklift truck operator must do a routine equipment check which includes brakes, warning devices, steering, mast and tires.
In case of any damage, the management should be informed immediately and repaired if needed before driving.
2. Operators should be qualified
Only trained and certified individuals should operate a forklift truck
3. Suitable clothing has to be worn
Proper clothing is an important aspect of driving a forklift truck. These safety work wear includes a hard hat, hi-visibility jackets and safety shoes
The fitting has to be perfect as loose clothing can get stuck on machinery
Do not try to hold or operate any of the controls when you have grease on your hands as they can slip off and cause an accident
4. Make sure that you have clear visibility
It is crucial for you to make sure that you can see the racking clearly in which you are positioning your load while driving
Stop driving in case of poor visibility. You may even need someone to assist you in such circumstances
5. Make sure that your load is safe and secure
Examine the loads thoroughly before moving them for stability and damage
It is essential to make certain that the load is tilted back with the forks sitting low whilst transporting to improve truck stability.
Do not forget to check any overhead object before lifting
You need to ensure that the loads are properly stacked and placed across both forks.
6. Maintain speed limit
Maintaining speed limit is crucial in operating forklift truck
Be careful while taking turns to avoid the risk of tipping
Reduce speed while changing direction
7. Avoid hazards
Maintain safe distance from other trucks especially if they move in an unpredictable way
Make sure that you have sufficient space to stop safely
Be careful of bumps and uneven surfaces especially when the road is slippery
8. Refueling
A forklift can only be refueled at specific locations
When it comes to IC engine forklifts, no open flame or sparks are permitted, and refueling should be done only in a well-ventilated area.
Forklift truck should be strictly handled by trained forklift operators who are well aware of its controls. I hope the above mentioned tips will help you to not only skillfully but also safely operate your forklift truck. If you are interested in forklift driving and wish to choose it as a career option then enlist yourself in a Forklift training school Mississauga where you will be trained under forklift training specialists.
About Canadian Commercial Driving License
It is truly not easy to pursue a career in Truck driving. One must have the ability to overcome hurdles on regular basis like floods, landslides and ensuring timely delivery of goods. At the end of the day the happiness of successfully combating these obstacles is something that is beyond comparison.
If your aim is to become a truck driver and operate vehicles such as tractor-trailers, straight trucks and buses, you will need to have a CDL or Commercial Driving License. Depending on the vehicle you choose to drive, your class of commercial license will be determined.
What is CDL?
CDL or Commercial Driving License is a compulsory Government procedure in which a person who has interest in becoming a driver has to submit his authorized documents to the government. Federal, State and Provincial governments control the type of commercial driver's license. In Canada, the standard for provisional and territorial CDL is set by the National Safety Code.
Both Canada and USA have very similar regulations when it comes to CDL which is a big advantage for the drivers who frequently cross borders.
Canadian commercial driving license
The control of all regulations for CDL drivers in Canada lies in the hands of Transport Canada's National Safety Code. It is mandatory for each province and territory to follow the National Safety Code while regulating their drivers. However, each province has different requirements for obtaining a license and the classes of the license.
Heavy vehicles including passenger buses and trucks are covered under this license. Apart from these vehicles, dump trucks, fuel tankers, taxis, limos etc also included in this list.
Some Canadian cities need transportation license in case you drive with a rideshare platform such as Uber or Facedrive.
For instance, Toronto is one of the cities that have made it necessary for all operators to have a Private Transportation Company License.
Canadian CDL License Endorsement
CDL license endorsement is something that allows a driver to use special equipments that need proper knowledge and training to handle. Drivers can pass through additional testing to add endorsements to their licenses.
For example to operate a truck with air brakes one must have a Z-endorsement in Ontario and F-endorsement in New Brunswick. Similarly the province of Saskatchewan asks school bus drivers to have an S- endorsement on their license.
Necessities for CDL drivers in Canada
Canada has set a minimum age of 18 and19 to be able to drive a commercial vehicle, based on the province. If you have plans to drive a bus in future, your age must be between 19 to 21 which is also dependent on the province.
Medical examination is mandatory for all provinces. Such medical examination is initiated to ensure that you do not have any medical condition that might be unsafe for you to drive. You will need a doctor's approval to prove your health is fine before applying for your commercial license.
Commercial drivers are also required to have a standard driver's license with a clean driving background and a criminal record check.
Becoming a professional driver is no less than achievement. But to achieve the position you need to obtain a commercial license. It is always a good idea to get assistance from a renowned new way truck driving training center in ON, Canada which can help learn and pass the provisionally mandated road test.