Outdoors
REPLACEMENT CUSHIONS FOR OUTDOOR FURNITURE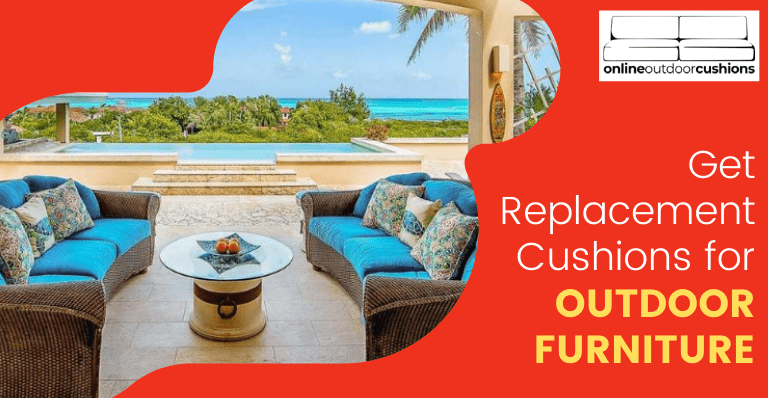 Your terrace, patio, garden, etc. are the exterior extension of your property. The outer space should function as a spot where you can relax and enjoy the gorgeous weather. The most versatile and the best way to upgrade the area and make it look more colorful is by swapping out the existing old cushions with the new outdoor cushions. Whether you need to update the fabric of your outdoor cushions or require a complete replacement of cushions for outdoor furniture due to years of wear and tear the internet is the best market to get the best outdoor cushions online.
GET REPLACEMENT CUSHIONS FOR OUTDOOR FURNITURE: THE SIMPLEST WAY TO SPRUCE UP THE OUTDOOR SPACE
Many sets of outdoor furniture hold weatherproof cushions that don't withstand dampness or fade and can resist all weather conditions. Even though you have lasting and weather-resistant cushions, you may find the need for new outdoor cushions for various reasons.
Cushions come in two parts: (1) covers, and (2) inserts. Sooner or later, you will see the need to replace one or the other. In all events, this guide can help you with everything you may need to know about replacement cushions for outdoor furniture to keep your house exterior look its best.
WHY SHOULD YOU REPLACE YOUR OUTDOOR CUSHIONS?
It's time to replace your outdoor cushions when you feel the need to upgrade the color scheme. Say, for example, you shopped gorgeous sets of outdoor furniture with sky blue pillows a few years back. The cushions are still in the best shape, but your taste has changed. However, if your cushions are in good condition and you want to upgrade the exterior living space of your residence with new trendy colors, then changing the cushion covers is the smart thing to consider. Replacing the covers will redecorate the space without spending vast amounts of $s in new outdoor furniture of pillow suits. Never get rid of the old cushion covers if they are in good condition. You may feel like returning to the old color scheme sooner or later.
In another case, you may need to get new cushions if the existing ones are in deterioration. Outdoor cushions are prone to resist the changes in weather. But, extreme weather conditions can harm them. However, you need to avoid leaving them outside during various weather conditions, especially when it is extremely hot or heavy rain. Storing cushions in a dry place is vital.
If you neglect to keep them safe during chilly months or thunderstorms, you may find yourself searching for new outdoor cushions. If the pillow fabric is spoiled, you can buy covers readily available. But, if the foam is out of shape, getting the fresh new insert is the right way to think.
GET THE RIGHT MATERIAL
Outdoor furniture are available in an array of fabrics and styles. It would be best if you review the material, style, and type of furniture before buying the cushions.
If your outdoor furniture is of wood, make sure that your replacement cushions are water-resistant or waterproof. Water-resistant covers will absorb a fair amount of water if soaked due to rain, whereas waterproof cushions won't absorb any moisture. Pick the option that fits the amount of water or rain your cushions are likely to retain.
The pattern is also a big thing to determine while choosing outdoor cushions, and wicker is the pattern of the weave. Rattan is the most common substance used in wicker. Moreover, wicker furniture mostly accommodates only the seat cushions without any seat back.
Metal outdoor furniture are more attractive and often used due to their durability and clean layout. Nevertheless, metallic chairs are smooth and can allow the cushions to slip. Replacement cushions for outdoor furniture that closely fit your metal furniture or have ties to support them are the best option for metal or steel furniture.
Plastic tables and chairs are also an option people practice for their outdoor area. They are more affordable but having them you might need to sacrifice comfort for the price. An appropriate set of cushions with some different style can indeed enhance the comfort level. Again, like metal furniture, get cushions that tightly fit the chairs or have ties.
CHOOSE THE IDEAL TYPE AND DESIGN
Replacement cushions for outdoor furniture are available in standard sizes. You can shop the size that fit your furniture style, customizing them for your particular set of outdoor furniture. As read before, if the cushions fabric is faded or worn, but the cushions are still in the perfect shame, you might only need to replace the cushion covers.
Let's review the most common types of cushion seats.
Single: This type of cushions are available in different shapes, round, curved, wicker, square and with deep styles.
Hinged: The seat and back both are attached in a single hinged cushion. Hinged seats are useful in the chairs that require paddings on both seat and back. These types of chairs often have high backs.
Bench: Bench cushions are useful for more extensive sets of furniture like sofas that are excellent at seating huge parties in comfort and relaxation.
Chaise lounges: Hinged chaise lounges are the more extended seats with reclining back. Cushions used for this particular furniture have a far longer seat area with a hinge at the spot where the seat meets the back.
Square, rectangle, contoured, round, and trapezoid are the five most familiar cushion shapes. When it comes to style, the box-edged thicker pillows with piping around the edges are the typical outdoor cushion styles.
Bullnose cushions are another style. This style of cushions will give your space a casual look and typically are affordable.
Another thing to take into account is to determine whether the cushion replacement is for deep-seated or high-back furniture if the exterior space is your terrace or patio. Well, deep-seated chairs usually include the thickness of an extended seat and are more comfortable to use for tall people. High-back chairs, on the other side, have taller backs which gives much more support. This distinctive design calls for certain types of cushions.
KEEP AN EYE ON THE RIGHT FABRIC
Picking the right fabric for your replacement cushions for outdoor furniture is a significant decision. You will only want your new set of pillows to look great and make you feel comfortable. Nevertheless, it is also essential to ensure that they are durable enough to withstand all weather conditions.
However, look for the fabric that is fade-resistant, waterproof, and water-resistant. After all, you will not want your cushions to fade following two summer seasons, or develop mold and mildew. Buy the fabrics used explicitly for outdoor cushions.
Sunbrella is a durable fabric that is resistant to mold, mildew, and fading. Besides, it is also rain- and waterproof.
Cotton canvas is a heavy-duty, plain woven fabric available in a wide range of colors. But, this fabric is not the right option without adding a water-resistant coating.
Textilene is often useful in sling seating and sunlight or sun canopies. It is fade-, moisture-, and mold-resistant. The fabric is waterproof but not water-resistant and also gets hot from sunlight.
Olefin fiber is a fabric that is durable against mold, mildew and fading.
Vinyl is easy to clean and maintain fabric that can heat up due to direct sunlight. Avoid using this material if you have kids.
Polyester is an economical fabric that can resist UV rays, stains, and mildew.
Many outdoor cushions providers in Toronto, ON allow their customers to get free fabric samples before buying to help them see and feel their options.
TAKE MEASUREMENT
Whether you want to upgrade your outdoor furniture or want to add new fresh colors to space, it is vital to get the cushions with the right size and fitting.
Based on the outdoor spot you want to order your replacement, you can measure the existing cushions or the furniture. You can also measure both to get the best fit. The usual accessories to measure the cushions and chairs include a paper, pen or pencil, and a measuring tape. Remember, a strong measuring tape will be easier to use than a flexible one. If you need to measure cushions that are curved or round, it will be more comfortable and precise to measure larger cushions than the smaller ones.
While measuring the cushions, don't forget to place them on a dry and flat surface. Measure their width, height, and thickness. To calculate it from seam to seam stretch the cushions while measuring.
SELECT THE RIGHT REPLACEMENT CUSHIONS
Regardless of the reason you need to replace your outdoor cushions, it is good to follow the proper guidelines when buying.
Compare the ranges: There are arrays of collection and ranges of outdoor stool and chairs. Each piece of furniture has a precise cushion. When you are on the lookout for replacement cushions for outdoor furniture, look for the right collection designed precisely for the set of furniture you have at your house exterior. It is crucial to get the cushions that fit perfectly in your existing outdoor furniture.
Match color scheme: What style and color the pieces of your outdoor furniture have? The color you decide to buy should match perfectly with the surrounding decor, as well as the furniture of your house exterior.
Seat accessories: Shopping for new outdoor cushions provides you with the ideal opportunity to upgrade or buy accessories, like a set of throw pillows. Additional seat accessories can add a complementary splash of color to your house exterior design and style and also can add some comfort and relaxation.
Get the right pattern: To give your outdoor space a trendy look and feel, replacing the old cushions is the best opportunity to get cushions that are more creative with beautiful designs.
MAINTAIN THE CUSHIONS TO KEEP THEM LAST LONG
You can keep your new outdoor cushions lasting with some simple TLC steps.
Clean the cushions regularly with an appropriate brush. You can also vacuum them, especially in between the seat gaps and corners.
Regularly sponge up the fabric to remove stains; never rub them.
Prevent the cushions from being under the exposure to direct sunlight to keep the shades brilliant for long.
Don't let the cushions soak with water or rain.
Always use covers to protect the cushion insiders. Covers provide them with flexibility and lasting since you can remove them for cleaning and drying.
Always use furniture covers to prolong the lifespan of your furniture.
Broader and deeper covers work best for outdoor furniture. Just bear in mind that the covers you buy are somewhat shorter than your actual furniture height, so they don't get moisture from the ground. Getting Online Outdoor Cushions is the simplest way to change things, add on specific seasonal color, and ensure maximum relaxation as you relish the outdoor space.