Cleaning
What does Post Construction Cleaning Include?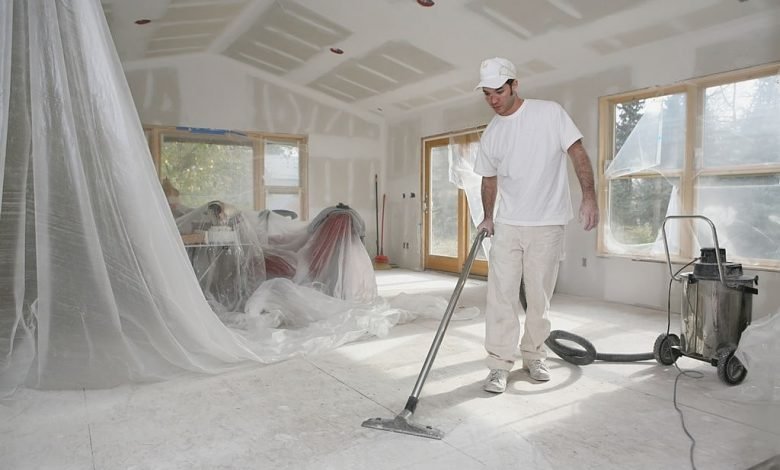 Living with builders while construction or remodeling is being done is one thing, and cleaning up the mess afterward is another. We like to believe that the latter one is more stressful. If you want to enjoy the fruits of the labor of constructors, there is tons of additional work that needs to be done before the final turn-over of the key. This is where we come in. GM Cleaning offers renovation cleaning service, carpet cleaning, move-in/move-out cleaning services so that every grime of dust, dirt is cleaned up thoroughly using specialized cleaning tools, making your home safe and liveable.
What is post-construction cleaning?
Even if constructors are mindful about being tidy while at work, there are bound to be dirt, dust, sharp objects, and scuff marks here and there. Post-construction cleaning comes after the construction or renovation project is done. Expert cleaners with effective cleaning products, specialized cleaning equipment, remove every speck of airborne dirt, particles, grimes settled on every surface from walls, windows, furniture, window coverings, hardware, appliances, light fixtures, ceilings, furnishing, office equipment, bathroom cleaning, washroom surface, carpet cleaning, and hard surface flooring, etc. Keeping Covid-19 in mind, we do through sanitization and disinfection on the entire space after the renovation project.
Phases of post-construction cleaning
Rough cleaning: Most of the construction sites need rough cleaning of some sort. After constructors remove the trash, debris, and hazardous materials after completion of the project, rough cleaning is done. If new flooring is installed, cleaners sweep, dust, scrub walls, wash interior windows to make every surface spotless and clean.
Light cleaning: The most sought-after cleaning phase clients opt for as it requires rigorous cleaning using top-notch equipment. In this phase, rooms like restrooms, kitchen are cleaned. Every sink, toilet, and cabinet is thoroughly checked and cleaned before clients move in. From removing stickers from windows, glass areas, doors, walls to heavy-duty cleaning- all are done with care by professionals.
Final cleaning: This phase may take the shortest time to complete and yet is very important. After the major cleaning is done in the second phase, this takes place after a few days to finally clear up dust, debris that may still be there on some surfaces. In this phase, detailed, minute cleaning like removing fingerprints, smudges, and imperfections from areas where normal Joe would not think of cleaning is done.
YOU MIGHT ALSO LIKE: Situations that Indicate Its Time to Call Professional Carpet Cleaners
Post-construction checklist
Entrances and exits: All doors, windows of the building must be wiped down before owners arrive. Doorknobs, door frames, exterior lights, entrance ways must be thoroughly swept, cleaned, and checked.
Common areas: Living rooms are supposed to be well-lit and squeaky clean. So we make sure to vacuum and mop floors, doorframes, light switches, doorknobs, windows, and window tracks are dusted and cleaned, trash cans are cleaned, paint spillage is removed.
Kitchen: Full of crevices and drawers, kitchens need cleaners' expert attention. From dusting and cleaning the insides of all selves, cabinets, counters, and drawers, cleaning appliances, vacuuming and mopping the floor, cleaning the backsplash, sink removing trash, and wiping down all fixtures- all are done thoroughly by us.
Bathroom: The cleaning services for bathrooms are shower, tub, sink, toilets and sanitized and cleaned, mirror, cabinets, counters, floors are wiped and cleaned, trash is removed, windows, baseboards, light fixtures, and doorknobs are cleaned.
Bedroom: From clearing closets, scrubbing walls, floors, and windows, dusting light fixtures, and ceiling fans, dusting grates, vents, built-in shelving units, wiping baseboards- all is done with care to make sure the bedroom is ready to use.
Outdoor space: Clearing trash cans, garage and mailbox, sweep and then power wash walkways, front porch, decks, and patios are included in outdoor space cleaning services.
Why do you need our post-construction cleaning services?
Post-construction cleaning is always hazardous as there are stray nails, glass shards, dust everywhere leading to breathing problems or bloody accidents. Our experts gear up with PPE to protect themselves before cleaning.
Our professionals come with years of experience and knowledge of working in the cleaning business. So, with the right top-notch appliances, cleaning products, they will make sure every surface is devoid of dust, splatters of paint, fingerprints, spots, etc.
Rather than doing a DIY cleaning project and spending money on cleaning equipment, renting appliances, cleaning products; choose our service to be stress-free and save time while getting all things done at minimum budget.
Conclusion
To make your office or residential spaces spotless and liveable after renovation or construction projects, post-construction cleaning by GM Cleaning is a must. To get a free estimate of renovation cleaning service, carpet cleaning, move-in/move-out cleaning, join our website today.