Technology
Rotate PDF Pages Using This Free Online Tool!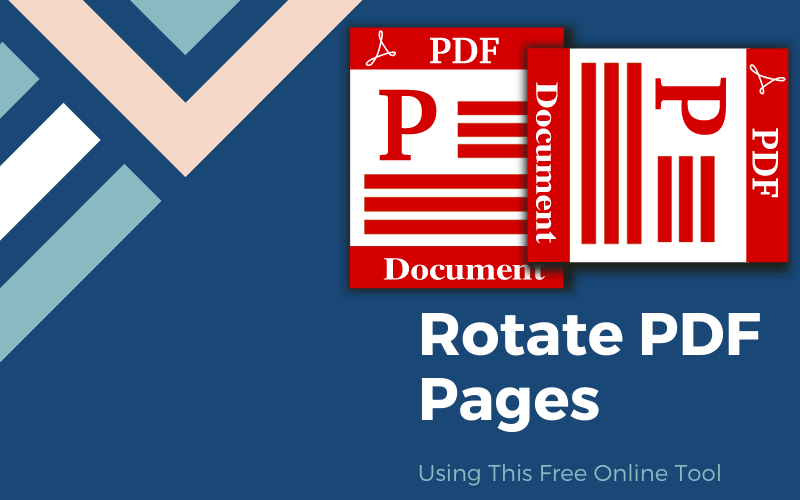 PDF is one of the most helpful and reliable file formats for when you are managing documents. Its permanence can help keep the integrity of your documents. Moreover, PDFs are also highly accessible because they can be viewed even when you are using a mobile device. Because of this, more and more professionals prefer to use this file format for all their documents.
While it is very convenient to readers and recipients, permanent files may be harder to manage. Because of this, you need to have access to a platform that will let you modify your PDFs for free. For instance, if you suddenly discover that one or two pages from your PDF are upside down, you have to rotate them first before sending it. But if you don't have the paid software to edit PDFs, how can you do it?
How can you rotate PDF pages?
With the help of an online PDF tool such as GogoPDF, you can rotate PDF pages for free. It's a web-based platform that offers a wide range of features and services that will let you edit and personalize your PDF documents. It's a free tool that lets you modify PDFs without any hassle. Moreover, since it's 100% online, you will also save a lot of time from downloading and installing software.
The first thing that you need to do is to access their website. Once you are already on the homepage, you will see a long list of available features. Look for the one that says Rotate PDF. It will then bring you to another page where you only have to do these 4 steps:
Upload the PDF file that you want to edit. You can select the file from your computer or you can drag and drop the document on the website.
Automatically, the tool will scan your document and give you a preview of it. Keep in mind, though, that if the file is protected with a password, you may be required to input it.
At this point, you can now choose the page or pages that you want to rotate. Once you're done, you can click on Apply Changes.
Depending on the size of your file, the tool will show you options to obtain the edited document. You can download the PDF and save it on your device or you can also share it using the URL provided on the site.
It's as easy as that. You no longer have to sign up or create an account to use their features. It's an efficient and free platform that you will surely find beneficial. It is also highly accessible because you can access all these tools whether you are using a computer or a mobile device. It also works on all operating systems. If you wish to maximize using this platform, you also have the option to sign up for a Pro membership.
What else can you do for free?
Aside from its convenience, security is also a priority of GogoPDF. As stated on their Privacy Policy, all the information and files uploaded on their site will be deleted an hour after processing it. This means that no one else will have access to your data without your permission.
More than just rotating PDF pages, here are other free features you can use at GogoPDF:
Convert files to and from PDF
The primary feature offered on this website is file conversion. If you need to convert a document, spreadsheet, slideshow, images, and even HTML pages to and from PDF, you can count on this tool. Moreover, you can also use this to convert PDF to PDF/A which is an ISO-certified version of the file format.
Combine multiple PDF documents
Organizing your PDF documents is highly recommended. If you happen to discover a lot of PDF files saved on your computer, you can also use this tool to combine them. Using the Merge feature, you can combine as many PDF files as you need to better consolidate your files. You can begin by grouping them based on different categories so it will be easier to locate them when needed.
There are instances where you will discover that the document you received or saved is damaged. Since it is very important to ensure that all your documents are working properly, it's best for you to repair them. Using GogoPDF, you can also repair damaged PDF files for free. All you need to do is to upload it on the website and follow the same 4-step process.
Sign PDF documents online
Signing a document sent to you via email is a tedious process. You may have to print it, sign it, and scan it again so you can send it back digitally as well. You don't have to do all of that anymore with GogoPDF. Using this tool, you can digitally sign your documents so it will be a lot easier and faster.
Aside from rotating PDF pages, you can also edit the overall content of your website. This tool is best to use if you are only going to insert a few words or sentences in the document. Additionally, you can also use this to input an image or additional graphics within the file. In that way, you can be sure that it is updated before sharing it.
Protect PDFs with a password
It's necessary to ensure that only authorized persons will have access to your documents. This is most especially for files that contain confidential and sensitive information. Because of this, you can also access GogoPDF to encrypt your files with a password. This is to limit the number of people that can open and read your documents. Additionally, you can also use this tool to remove a password from your file.
Conclusion
Now that most people are working remotely, it's best to have a convenient and hassle-free platform for everything. To manage and modify your PDF documents, you can always count on GogoPDF. This free web tool is a reliable platform that will aid you to keep your PDF updated and shareable all the time.