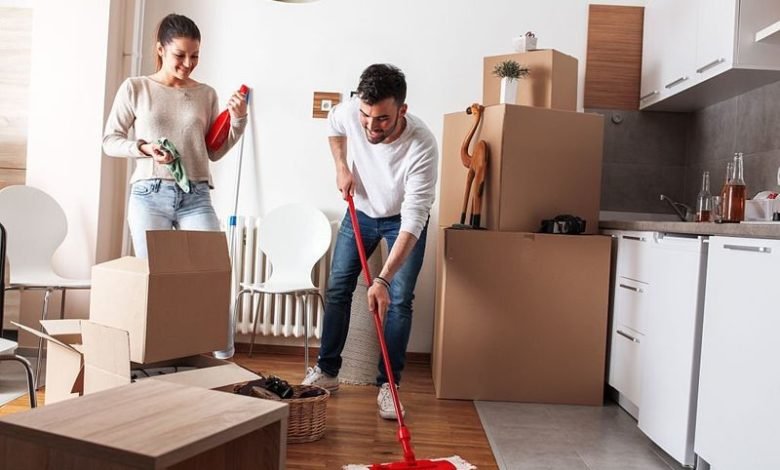 Move In & Move Out Cleaning Services in Scarborough
Cleanliness is next to godliness. Whether you are moving out or moving into your new home or working space, the place should be in an immaculate state. Cleaning on your own can be a stressful job while handling your professional and family life. We provide what we would like to call Detail-Cleaning Rotation System, a specialized cleaning service that you would rejoice again right down to the details.
Move-in deep cleaning service
Moving in means transitioning into a new part of life in an entirely new area. While being an exciting process, it can be a nightmare for all. Getting the keys to a new apartment, house or office space is a celebratory moment for anyone.
But who will have the time to celebrate if you are stuck in your new home cleaning away years of dirt along with moving boxes? With the help of certified, experienced maid service, we get the cleaning done in a couple of sessions at competitive prices. First, we clean and sanitize the most important parts of the home: the kitchen and bathroom. Then in the next session, we deep clean the living room, bedrooms, dining area, corridors leaving the place spotless and sanitized before putting your belongings.
YOU MIGHT ALSO LIKE: When Choosing Office Cleaning Contractors
Our specialized cleaning service for new homes include:
Thorough cleaning and sanitizing kitchen area and bathroom faucets, bathtubs, showers, toilets.
Cleaning microwave, oven, washing machine, and other electronic appliances.
Dusting & cleaning all vinyl, wooden, tiled floors, and walls.
Vacuuming every other surface including ceiling fans, window panes, door frames, dining tables, etc.
Sanitizing every nook and corner of the house, while keeping extra care of the sinks, faucets, bedrooms, under the couch, and other confined spaces.
Cleaning out drawers and cabinets if requested.
Move out specialized cleaning service
The dream of having a clean house is ideal for all. But who dreams of cleaning the house themselves? While moving out, you are always stressed about packing your belongings into boxes and cleaning the apartment to perfection afterward. As part of rental agreements, before leaving the rental home you have to reinstate it into an ideal clean place to get your security deposit back from the landlord. Ideally, it is a basic courtesy to clean the home before any other family moves in.
Join hands with our professional cleaning service & we do the cleaning of the rental home within the consolidated time for minimal pricing. Don't worry about the mess! While we do the hassle for you, you pack and be ready to leave. We do pre and post-moving cleaning immaculately.
Why choose us?
We do a thorough background check before hiring cleaning staff. All of them are honest, insured, trained professionals.
We use top-notch machines, eco-friendly cleaning supplies to get the job done.
Punctuality is synonymous with our staff. They arrive at your door right on time, offer their service 24*7, finish work even before time.
We give free estimates depending upon the square footage of your property and the area in which it is situated. Our pricing is competitive which you cannot resist.
Your satisfaction is what we aspire for. If you like the work of a particular staff, we are willing to provide that cleaner again at your place if you ask for.
Our specialized cleaning services can be customized depending upon your needs and budget.
YOU MIGHT ALSO LIKE: 4 Advantages of Steam Cleaning
Overview of our specialized cleaning service
Move-in/ move-out cleaning checklists are essential. A checklist should include every belonging that should be packed away and every surface & object to be cleaned. Hire us and hand over the checklist, we do detailed cleaning by professionals with the right tool within time.
General cleaning: General cleaning includes mopping, dusting, vacuuming any loose items and every surface of the house or workplace to get rid of contaminants, dust, and grimes gathered over years. Bedrooms, living area, bathroom, sinks, bathtubs are cleaned to perfection by us as part of the general contract of cleaning service.
Kitchen cleaning: We clean and dust every drawer and cabinet, kitchen countertops, fridges, cupboards to remove stains and grimes so that movers can use them right away once they are settled in. We also clean the kitchen wall and floor tiles and vinyl so that the area looks immaculate for movers so that they can be settled in easily.
Window cleaning: Our company includes this as standard service for move-in & move-out cleaning. It is a maintenance add-on that can be expensive. But do it within your budget so that owners/renters can get a spotless view of the exterior of the property and immediately move in without busying themselves with cleaning.
Appliances cleaning: It is an additional cleaning service which you can opt for or not. We will include this service in the contract if you choose this to clean microwaves, ovens, washing machines to spotless perfection getting rid of stains, gunk. Many landlords or new homeowners prefer this service before renting the place or moving in.
Benefits of move-in/ move out cleaning service
Effective and hassle-free.
Getting security deposits back from landlords.
Professional cleaning is always better than DIY procedures.
Long-term cleaning due to deep cleaning service.
Clean aesthetic look for tenants or buyers.
Customization of cleaning service.
Reducing the workload of landlords.
Conclusion
Do not anchor yourself to the dirty task before moving in or moving out. At GM Cleaning Company, we provide custom deep cleaning services by professionals to clean every nook and cranny of your home or workplace within your budget in consolidated time. To hire our experts or to get a free estimate, visit our website today.