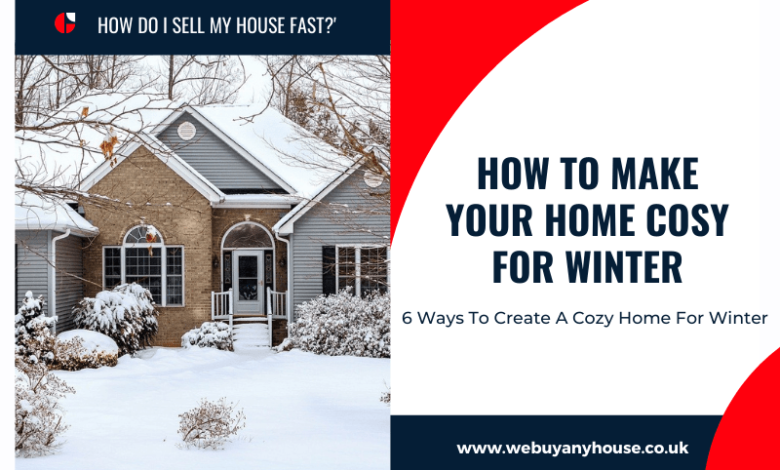 When you think of winter, your mind typically conjures up images of Christmas and festivities, and spending time with loved ones gathering in your home to watch movies in front of the fire. In some ways, the idea of winter has become romanticised, as throughout the summer months we yearn for autumn outfits, hot chocolates and day trips to the Christmas markets. We begin to obsess over when we're putting our decorations up, who's hosting the family parties and planning social events to ring in the new year with friends. But as the days get shorter in winter, most of us end up staying curled up inside the comfort of our own homes, protected from the cold and descending into hibernation to avoid the dreariness of the winter sky. Although Christmas decorations can make your house instantly feel cosy and welcoming, most homeowners typically put their decorations up for a short period of time throughout the winter, and once we face the harsh months of January and February, our homes feel colder and more naked than ever. There are plenty of ways to make your home cosy throughout winter, without relying on Christmas decorations. Here at We Buy Any House, we have compiled our top tips to help make your home cosy for winter.
Throw the Blankets Around:
When it comes to feeling cosy, nothing springs to mind faster than the image of being curled up with a big fluffy blanket in front of the TV. As temperatures begin to drop rapidly, you will more than likely want to drape yourself in blankets to feel nice and warm- and this is also a great way to reduce your heating bills. Make sure your house has throws and blankets lying around, incorporating classic fabrics such as fleece, wool and flannel. Not only are these a great accent for decorating, but they can be stored in baskets and trunks so don't require too much space.
Get a Fire Going:
Throughout the winter months, we crave warmth. If you have a fireplace, now is the perfect time to get a fire lit to not only warm the house up, but to create a relaxing atmosphere using a flickering soft flame. However, not everyone is lucky enough to own a fireplace, so a great alternative (which can also be used at the same time as lighting the fireplace), is to light candles around your house. Group candles are perfect for a cosy effect, and if you invest in winter scents such as wood or cinnamon, they can massively add to the warm ambiance of your room.
Keep the Floors Warm:
There's nothing worse than stepping onto a freezing cold floor or having cold feet in general. Although you can invest in all the fuzzy socks and slippers that you want, why shouldn't you walk around your home barefoot without fearing the spine-chilling temperatures of your floor? Underfloor heating seems like an expensive solution to the problem, so a cheaper and better alternative is to invest in rugs and runners for your house. Not only will these look aesthetically great, but they will also do a great job at insulating your floors.
Soften Your Lighting:
When it comes to lighting, it's important to strike the right balance of the room being bright enough to ensure you can see, without having harsh lighting that feels like you're under police interrogation. Creating soft lighting in your home is a great way to implement a cosy atmosphere in the home, and it doesn't have to be a difficult task or require an electrician. To create a soft glow in your home using lighting is quite simple, and includes things such as:
Adding a dimmer to your light switches.
Replacing light bulbs.
Adding LED bulbs for various colours.
Changing out a sconce.
Adding a new lampshade.
Add Winter Greenery:
In the winter, we tend to remove the idea of gardening and adding plants to our home. However, just because it's cold outside doesn't mean you have to think of nature as consisting of nothing but brown leaves and snow. Throughout winter, you can use garlands and wreaths to accent the seasonal decoration in your home. Plants such as holly, spruce, pinecones, magnolia and eucalyptus look great when intertwined with string lights and berries.
Make Homely Food:
As you're spending most of your time indoors, why not snack on some wholesome winter food, drink and snacks that will warm you up on the inside, while also reminding you of your childhood. Things such as hot chocolates, heart soups and freshly baked cookies are all symbolic of winter and are great foods to be stocked up on for those days where you want to get all cosy in front of the fire and watch a film. Additionally, cooking and baking is a great activity for everyone to get involved in and spend some quality time together.
This article was written by a quick house sale company We Buy Any House. If you're wondering "how can I sell my house fast?", head to the We Buy Any House website for more information relating to all property related enquiries.