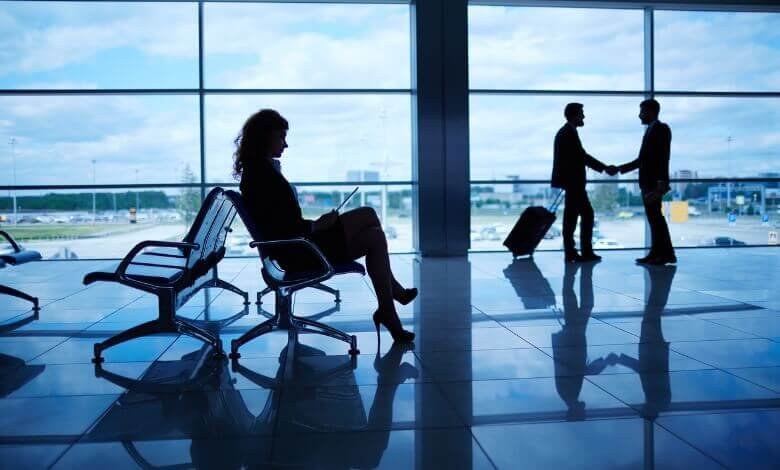 The average cost of business travel is about 10% of your corporate annual revenue. However, the good news is that for every dollar spent on corporate travel, companies see a $2.90 increase in profit and a $9.50 increase in revenue.
Meanwhile, Bleisure is the new buzzword on a business travel platform. This trend sets the tone for the post-COVID era, where companies must be flexible in their travel plans. With more companies switching to hybrid working, business travel needs to keep up. That is why organizations need the help of a business travel management company.
Why use a business travel management company?
Many get confused between a travel agency and a business travel management company. But they are actually quite different. A travel agency has a few perks, like helping businesses with travel bookings, offering lower rates, and having exclusive deals with vendors.
However, a business travel management company (TMC) provides comprehensive business travel services. Their main goal is to ensure all bookings are 100% policy-compliant. They offer the best rates for your business travelers. In addition to these benefits, their solutions are customizable, automated, and centralized, with a vast range of services. Even better, the right travel management platform will negotiate better rates that save you money.
What to look for in the right business travel management company
To find the best corporate TMC for you, check out these features and services that will save time and money.
Innovative advanced technology
There are several business travel management companies out there. But the best ones will have integrated digital solutions that give your employees the right tools. Not only should you have technology that helps you keep track of expenses, analyze metrics, and manage unused tickets, but it should also help with risk management. Business travelers should be able to easily access booking options, travel plans, policies, and support teams.
Your business travel technology should stay updated and provide real-time reports with full integration. Finally, look for a company that can help you manage your whole program comfortably and efficiently while also keeping an eye on where your employees are in case of an emergency.
Large inventory of service providers
Negotiating corporate rates with your preferred service can help you save money on your trips. Not all businesses have many travel requirements to use as leverage with services like airlines and hotels. Hence, access to a network of providers is a great way to get the best rates through a travel management platform.
Check with the business travel management company to see what kind of buying power and supplier connections they have. Also, you can use these connections to get extra perks, such as complimentary breakfast or happy hours. Even though it might seem slight, you'll find that small expenses can quickly add up and become a big problem. That's why leverage with your service provider is so crucial.
Seamless planning and self-booking
Business travelers should be able to plan and book their trips with ease by using a travel management platform. It can provide organizations with something that even the top corporate travel agencies can't: self-booking for the employee. These TMCs make it easier to manage business travel. They offer the help of travel professionals to make the whole process smoother.
Cost savings and corporate rates
When choosing a TMC, it is essential to consider the fees and how much you can save. The business travel platform should provide access to corporate rates for booking hotels and flights, which travel agencies don't.
Furthermore, you want to ensure your employees are comfortable while booking, but not at the expense of your travel budget. That's why you should optimize your costs and give your employees the best travel experience without breaking the bank.
Customer support
The best travel management company will have a designated travel manager. Through their business travel platform, they will advise and support you 24/7 anytime and anywhere you travel.
Customizability and travel policy compliance
If you work in any specific industry, like IT, Law, Non-Profit, Sales, etc., you should pick a travel platform that caters to your unique needs. Business travel management isn't complete without having a travel policy. It's all about protecting the interests of the traveler and your organization. The right tool will ensure that employees comply with all corporate travel policies. It should also be able to integrate with your travel policy, track and analyze trends, detect mistakes, and more.
Unified integration
Look for a unified business travel platform where you can quickly make new reservations, use them, or revise them without switching between different services.
Transparency and saving money
Choose a company's travel management software that has an open pricing policy with no hidden fees or penalties. Travel companies can save you a lot of money, especially if you're traveling a lot or have employees who do. Further, a travel management company will have a lot of connections in the travel industry, so they can get you top-notch hotel deals, cheap airfare to beautiful places, or book flights when you need them most. This factor can cut down on your travel costs.
Reliable reporting mechanism
Efficient reporting needs to help you spot where you're spending too much money and use that data to help you make wise decisions that help you cut costs. A corporate travel management program only works if it gives you clear reports with data to show you how well you're doing and where you can create improvements. That data will show where you could save money and help you figure out where you're spending more than you should, which will help you make better decisions and help you make more money.
Approval Flow
An optimal travel management tool allows for multiple approvals for all the employees within the organization. With an effective corporate travel management company, you can automate the approval process, informing the approver to verify bookings promptly.
Wrapping Up: The right business travel management company is here!
Choosing the right corporate travel management company for your business is tricky when you have many options. Make sure you pick a service that fits your needs, like a provider with a mix of all-inclusive solutions, third-party integrations, top-notch service, and an unbeatable inventory. It will take a lot of thought, especially considering factors like cost savings, support, and customization.
A business travel platform such as ITILITE simplifies travel management. Discover how the right TMC helps you save big on each business trip!