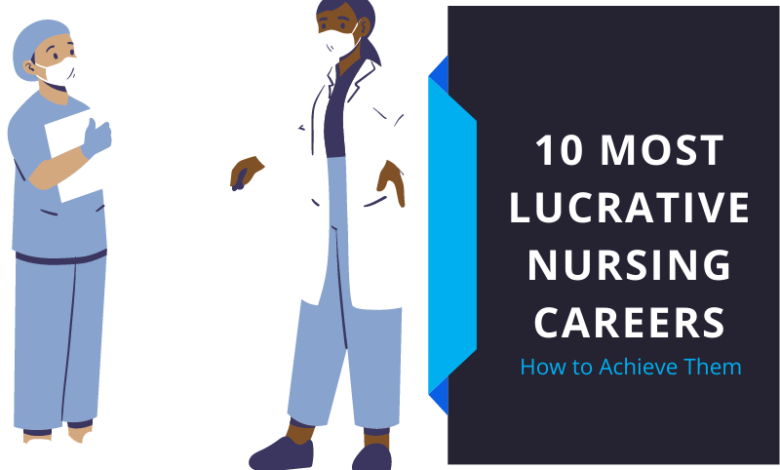 Do you want to make more money?
Of course, you do. Who doesn't?
While the general consensus is that people get into the field of nursing to help people and make a difference in their lives, the truth is that the annual salary for a role is just as important.
As the cost of living continues to go up and families across the country deal with the financial aftermath of the pandemic, finding a job that pays well is paramount.
Fortunately, if you work within the nursing sector and you are willing to pursue further education to improve upon your knowledge and skills, there are many highly lucrative positions available.
Whether you are actively seeking out a higher-paid role or you want to progress in your career in nursing, the below nursing careers deliver a high salary as well as many other professional perks.
These are the most lucrative nursing careers right now
1. Certified Nurse Anesthetist
The median annual salary for a certified nurse anesthetist is $189,190. This makes this demanding role one of the highest-paid ones in nursing.
In a highly skilled position, to become a certified nurse anesthetist, you will need a degree from an accredited nurse anesthesia degree program. It is also worth noting that from 2025, you will need a doctoral degree to pursue this career in nursing.
The role of a certified nurse anesthetist involves the preparing and administering of anesthesia to patients when instructed to by surgeons, dentists, podiatrists, and other healthcare professionals.
Once qualified, you can expect to work in a wide variety of healthcare environments, including hospitals, ambulatory centers, private clinics, and staffing agencies.
If you want to find out more about this nursing role and other popular careers within the field of nursing, it can be helpful to read a healthcare and nursing blog from an accredited organization.
Also Read:
https://www.wordplop.com/8-healthcare-related-careers-worth-pursuing-in-2022
2. General Nurse Practitioner
Due to a lack of qualified physicians in the United States, the demand for nurse practitioners has soared. Another high-paying position, as a nurse practitioner, you can expect to earn $114,510 per year.
Depending on the state that you want to work in, as a qualified NP, you can either work independently or under the supervision of a physician.
To become a nurse practitioner, you need to obtain a Master of Science Nursing (MSN), and you need to earn a Nurse Practitioner licensure from your state.
On a daily basis, you will be required to carry out diagnostic tests, treat minor injuries and illnesses, advise patients on healthcare issues and their overall wellbeing and educate the community on preventative healthcare measures.
Again, you can choose to work in a hospital, a private clinic, or practice in a school, and from many other healthcare facilities within the local community.
3. Certified Nurse Midwife
If your passion lies in prenatal care, then you may want to explore the role of a certified nurse-midwife. With a median annual salary of $115,540, which works out at $55.55 per hour, you will be involved in all aspects of midwifery, including obstetrics, labor and delivery, and prenatal care.
While the majority of certified nurse-midwives either work in hospitals or OB/GYN offices, you could branch out and open your own practice, which offers the opportunity to increase your earnings further.
To become a certified nurse-midwife, you first need to earn an ACME-approved midwifery graduate program and pass the midwifery exam set by the American Midwifery Certification Board.
The job outlook for nurse midwives is also positive, with job openings expected to increase by a whopping 45% between 2020 and 2030.
Also Read:
4. Neonatal Intensive Care Nurse
According to the Bureau of Labor Statistics, a neonatal intensive care nurse can expect to earn a median annual salary of $117,670, which equates to $56.57 per hour.
The perfect occupation for nurses who love babies, working in a neonatal intensive care unit is both rewarding and demanding.
To become a neonatal intensive care nurse, you first need to gain experience in a neonatal unity as a registered nurse. If you want to command a high salary, you will also need to obtain an advanced practice degree that specializes in neonatal care.
In terms of job outlook, due to an increased number of premature births and the steady growth of the population in the U.S, you can expect there to be many available positions over the next decade.
Once qualified, you can choose to work in a hospital, private practice, birthing center, neonatal care unit, or in a pediatric outpatient clinic.
5. Cardiac Nurse Practitioner
According to Salary.com, the annual median salary for a cardiac nurse practitioner is $114,000, which equates to around $55 per hour. However, the top percentile of cardiac nurse practitioners can earn $129,000 per year or more.
Another highly demanding role within the nursing sector, as a cardiac nurse practitioner, you will be responsible for carrying out cardiovascular assessments on patients who have either acute or chronic heart problems.
To become a cardiac nurse practitioner, you need to first obtain two years of experience working as a registered nurse, and then you can take your cardiac nursing exam that is administered by the ACCN.
As well as finding employment in hospitals, you can also seek out long-term opportunities in rehabilitation centers, residential care homes, and home healthcare facilities.
6. Oncology Nurse Practitioner
The average annual salary for an oncology nurse practitioner is $113,000, or $54 per hour. However, the top 10th percentile of practicing oncology nurses can earn as much as $121,000 per year.
Typically, oncology nurse practitioners work alongside surgeons and physicians in treating patients with cancer. You will be required to offer support, care, and advice to patients and their families during treatment and play a pivotal role in their care.
To qualify as an oncology nurse practitioner, you need to pursue a master's degree from an oncology nursing program and pass the oncology nursing certification exam.
Oncology nurse practitioners can work in a wide variety of environments and usually choose to focus their efforts on one specific area of care, such as:
Emergency
Geriatrics
Pediatrics
School health
Women's health
Family practice
You could choose to work in a hospital, doctor's office, cancer treatment center, in patients' homes, or in a hospice.
Also Read:
7. Psychiatric Nurse Practitioner
According to Salary.com, the average annual salary for a psychiatric nurse practitioner is $111,010, with factors such as experience, qualifications, and your chosen setting all affecting your expected salary.
As a psychiatric nurse practitioner, you will be required to treat patients who have a wide range of mental and psychiatric health issues. Typically, psychiatric nurse practitioners work in mental health facilities, rehabilitation clinics, or correctional centers.
To thrive in this role, you need to be a compassionate and caring individual who is able to provide emotional, mental, and sometimes spiritual support to your patients.
To become a qualified psychiatric nurse practitioner, you must first earn a MSN degree, with the focus of your coursework on psychiatric care.
In terms of job outlook for the future, the employment growth for psychiatric nurse practitioners is an impressive 26% over the next year.
8. Pain Management Nurse
The average annual salary for a pain management nurse is $100,872, which equates to roughly $40 per hour.
Responsible for identifying the cause of a patient's pain and educating the patient on pain management strategies, pain management nurses often work in hospices, palliative care facilities, and oncology units within hospitals.
While there is no required advanced degree to become a pain management nurse, you do need several years' experience as a registered nurse and be able to demonstrate a clear interest in the field of pain management.
If you want to gain experience in this lucrative role, it can be a good idea to ask your supervisor about volunteering or shadowing opportunities which will enable you to gain valuable experience in this area of nursing.
Pain management is a highly in-demand skill in nursing, so you can expect a positive job outlook for the future if you decide to follow this career path.
9. Nurse Administrator
Not everyone is suited to patient-focused roles, but that doesn't mean that you can't make a difference and earn a high salary in nursing.
The median salary for a nurse administrator in the United States is $104,280, which equates to roughly $55.13 per hour.
As a nurse administrator, you will be required to oversee nursing staff and facilitate collaboration between different nursing departments. You will also be responsible for developing new policies and dealing with HR-related issues.
To become a nurse administrator, you will need to obtain a master's degree in healthcare administration and have at least 5 years' experience in a related occupation.
If this sounds like the ideal nursing role for you, you will be pleased to know that the job outlook for this position is hugely positive. In fact, according to the Bureau of Labor Statistics, the employment growth rate for medical health and services managers (including nurse administrators) is 32% between 2020 and 2030. This is much faster than the rate for all other occupations.
10. Nurse Educator
The average salary for a nurse educator is $102,675, with the salary range typically falling between $85,619 and $114,352 per year.
Nurse educators are responsible for educating nursing staff using bespoke training programs that they have designed themselves. The perfect nursing role for someone who loves learning and sharing knowledge, as a nurse educator, you will oversee new staff members and students within a clinical setting.
To become a qualified nurse educator, you need to gain a master's degree in nursing. However, due to their love of learning, many nurse educators also choose to pursue a doctorate degree.
Some of the most common work settings for nurse educators include hospitals, long-term care facilities, universities, and vocational schools.
How to negotiate a high nursing salary
If you want to negotiate your current nursing salary or you want to know how to get a better contract in the future, then the below techniques should be able to help you.
Understand the salary structure of the organization
Some healthcare organizations are unionized, which means that the salaries are set in stone, and no amount of negotiation on your part will make any difference. Other organizations operate on a tier pay structure which means that they base their salaries on experience and qualifications.
If you do not know how your organization or a potential new employer operates, then it can be a good idea to ask once you have received an offer of employment.
Carry out market research
The more information you have about the position and its average salary, the better. For example, what is the median wage for the role in your specific geographic area? Plus, is there much demand for this role where you live?
Whatever information you can find out before you try to negotiate will help you to build a stronger case for your preferred income.
It is much harder to negotiate a salary with an employer if you don't at least have a rough figure in mind of what you would like to earn. Ideally, you want to decide upon a range before you start negotiations.
A failure to have a figure in mind can result in you accepting a number that you are not really happy with.
Settle on a mutually beneficial number
When negotiating, you want to settle on a final salary that benefits both parties as this will help to facilitate a good working environment for the future. Therefore, you should not ask for an unrealistically high wage, nor should a potential employer offer an insulting low one.
Know your worth, know the market and be fair.
Conclusion
While your salary is a crucial part of your job, don't let it overshadow your passion for nursing and for helping others. When choosing your next career path, make sure that you pursue a role that not only helps you financially, but that will also offer job satisfaction and enjoyment.
Even the highest salary in the world cannot overcome unhappiness in your daily working life.
Good luck and happy job hunting!