Finance
Become an expert in Financial Modelling Valuation with this affordable online course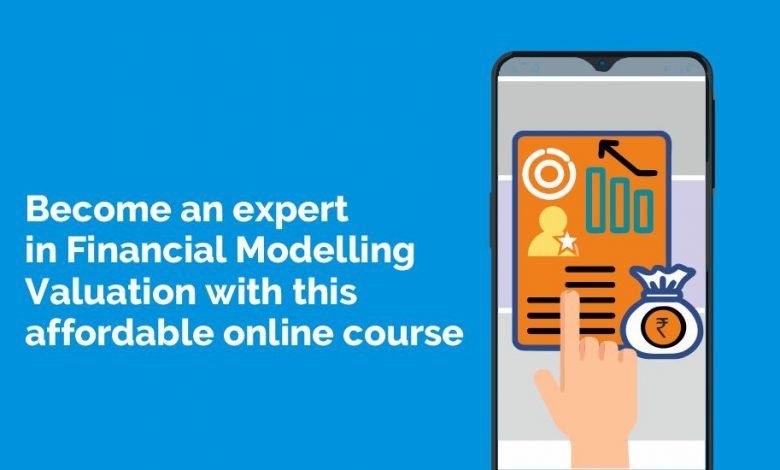 One of the most in-demand financial skills in the corporate world in today's date is financial modelling. In fact, the demand for financial modelling analysts is rising across the globe. As a finance professional, this is valuable expertise to include in your resume.
Interested to know more?
Read on In this article, we will tell you about one of the top Financial Modelling Valuation courses in India.
But before that, let us understand valuation modelling in a nutshell.
What is Financial Modeling and Valuation – A Summary
Financial modelling is analysing the numbers of a company's past and present data to forecast the future. The basic intent of doing this exercise is to use them as a decision-making tool such as conducting a cost-benefit analysis of a proposed new project.
Financial analysts use them to anticipate the impact of various micro and macro-economic events on a company's stock. Financial modelling also takes into account internal factors such as change of strategy or business model.
Importance of Financial Modelling and Valuation
Financial modelling is an extremely important tool for making business decisions in the corporate world. They make the job of making choices easier. From trying to raise finance for a project to buying and selling raw materials and products – the forecast provided by financial modelling can prove to be extremely beneficial.
They can also provide valuable insights into the risks involved with a particular project or decision and can serve as important indicators of the finances and operations of the company.
Moreover, valuation modelling can provide effective insights about how to expand your business in a cost-effective way. They reflect the financial situation of a company and aim to provide an economic representation of the business.
Financial modelling is widely used in the fields of equity research, mutual funds, financial KPOs, credit rating agencies, investment banks, project finance companies and others. Financial modelling also helps compare the valuation of a business compared to its peers in the industry. They are an important component of strategic planning and are used to test various scenarios such as budgeting, calculating the cost of new projects, allocating corporate resources and others.
Learning Financial Modelling and Valuation
Now comes the vital question – how to learn financial modelling and valuation?
One of the best online courses is being offered by elearnmarkets.com, the educational subsidiary of StockEdge, the premium stock market app in India. The course is titled 'Comprehensive Financial Modelling & Valuation.'
Let us take a close look at what this course offers….
A Brief Overview of the Course
This online educational program teaches you in an easily understandable language. The course is conducted in a mixture of Hindi and English by a Chartered Accountant and an ex-corporate banker who have decades of experience in hands-on financial modelling. The course includes 40+ hours of step-by-step self-learning videos. It starts with the basics and slowly moves on to advanced levels.
This is a completely practical course where you can learn project finance modelling from scratch. Starting with financial statement analysis, you will slowly move on to comprehending decision-making and analysis using models. You will also learn DCF valuation and DCF analysis.
This program has been meticulously designed to provide the best understanding of various aspects related to financial modellings such as time value for money, cost of capital and capital budgeting techniques, financial statement analysis, financial ratio analysis, construction of financial models, project finance modelling and others.
The course is ideal for investors as well as aspirants in corporate roles.
Also Read:
What Does It Include?
This course is a conglomerate of 5 extensive courses on various aspects of finance. The components are:
MS Excel: Zero to Hero Course: This program comprises of 16 videos covering 15+ hours of content and 14+ downloadable materials. Conducted by a Chartered Accountant and Corporate Banker, this course will module will help you master MS Excel, which will serve as the stepping stone to understanding financial modelling and valuation.
Corporate Finance: Financing Technique & Valuation Models: This module will provide you with an introduction to corporate finance and focuses on aspects such as capital allocation, asset financing and increasing value for shareholders. It consists of 34 videos covering more than 7 hours of training.
Understanding Financial Statements & Ratio Analysis: Knowing how to reach financial statements and ratio analysis is another important skill related to financial modelling. This course covers this aspect through 22 videos spread over more than 5 hours and various supplementary downloadable materials.
Project Finance Model: CMA Report: Through this module, you will learn to use an excel based analytical tool – Project Finance Modeling. This is used to assess the risk and reward of lending or investing in long term infrastructure projects. The course contains 4 videos with more than 5 hours of content. You also get a number of supplementary materials with this course.
Equity Valuation: How to Value A Stock: As the name suggests, this module will help you learn the methods of valuing a stock. By the end of the course, you will be able to build your own robust valuation system. This course contains 5 videos with more than 5 hours of content. You will also get various downloadable supplementary materials.
Who Can Enrol for this Course?
This course is ideal for anybody with an interest to learn financial modelling and concepts associated with it. However, the following groups of people will find it extremely beneficial:
Commerce graduates
Chartered accountants
Company secretary
Cost accountant
MBA degree holders or MBA students
CFA Charter holders or CFA students
Apart from this, anyone aspiring to have a rewarding career in the financial field can also enrol on this course.
Cost of the course
This is quite an affordable course. The course costs only ₹ 5,899 including tax.
As mentioned in the title, this is indeed one of the most affordable and easy to understand courses related to financial modelling valuation. If you have been thinking of expanding your knowledge in this arena, do check this out.