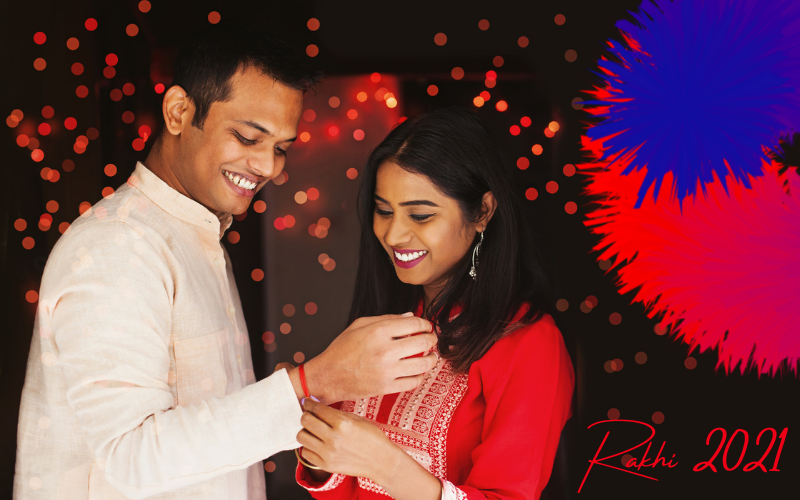 Rakhi or Raksha Bandhan is one of the most colorful Hindu festivals of India. This festival particularly celebrates the special bond between the siblings and brothers-sister relationships. The term Raksha Bnadhan has its origins in Sanskrit and translates to "a bond or thread of protection". It is celebrated during the full moon or Purnima in the Hindu luni-solar month of Shravana or Sawan. This month usually corresponds to the Gregorian calendar month of August.
On the day of Raksha Bandhan, brothers and sisters, cousins all around the country celebrate their special bond. The sisters tie an auspicious thread around their brothers' wrist and the brothers vow to protect them from any evil and danger. They exchange gifts and offer each other blessings.
Like every festival, gifting in Raksha Bandhan becomes a tenuous task for everyone, especially the brothers!
Worry not, we are here to help you! Jewellery is one thing that no female can say no to, we have compiled a list of jewellery items that your sister will definitely love, and the best part is it is affordable!
Earrings: No woman can have enough earrings ever, so choosing earrings over other jewellery pieces is not only a great idea but also safe. Earrings are also a perfect gift for women of any age. At Miorah we have an enormous range of earrings available at every price point and designs that are sure to make your sister fall in love with. Be it the jhumka earrings, chandbali earrings, stud earrings, temple earrings, etc. you can find everything on our website.
Rings: Rings are adored by every female, be it a girl or a woman, they are versatile and can be worn with almost every outfit. We have a wide range of rings from sterling silver rings to oxidized silver rings to gold and diamond rings, anything and everything you need! We also have a ring size guide that will help you to get the perfect choice for your little sister.
Bracelets: If you are not sure about the ring size and still want to give your sister something classy, then believe us a bracelet just might be the perfect option for you. We have a beautiful selection of bracelets like- gemstone bracelet, sterling silver bracelet, gold and diamond bracelet, adjustable bracelets, designs that are fun, quirky and elegant. Bracelets are also one of the most unique ways to convey your love to your sibling.
Pendant Necklace: Pendant necklaces are one of the most popular categories of jewellery that are liked by women. They are elegant, they are graceful and are available in a variety of designs. The pendant can also be personalized with her initials, it can be her favourite gemstone or a diamond pendant necklace that she will forever treasure.
Now that we have gone through the gifting options for the sweet sisters, it's time to discuss the gifting options for brothers.
Silver Rakhi: With the pandemic separating your beloved people from you, it is time that you switch on to the new ways of living and gifting! Silver rakhis have been gaining popularity in recent times, they are fun and quirky from the average rakhis, they are also something new that we are sure your brother will love. And the most interesting part is it can be treasured forever. You can buy silver rakhis online from our website, they are available in numerous beautiful designs.
Men's Silver Bracelet: Silver bracelets are known for their stunning designs and are one of the jewellery pieces that men tend to wear and like. We have a massive range of silver bracelets which comprises gemstone bracelets, leather bracelets, silver cuff bracelets, silver chain bracelets. You can easily gift a stunning piece of silver bracelet instead of just the chocolates or clothes and see his happiness.
Men's Silver Chain: Silver chains are really great options for men. They are chic, they are masculine and look really great when styles. Silver chains come in a variety of designs and styles, the links of the chain can be larger and smaller which create a statement look, the chains with alphabets can also be a nice personal touch, and if your brother is someone who is into men's fashion that a dog tag chain is also a perfect choice.