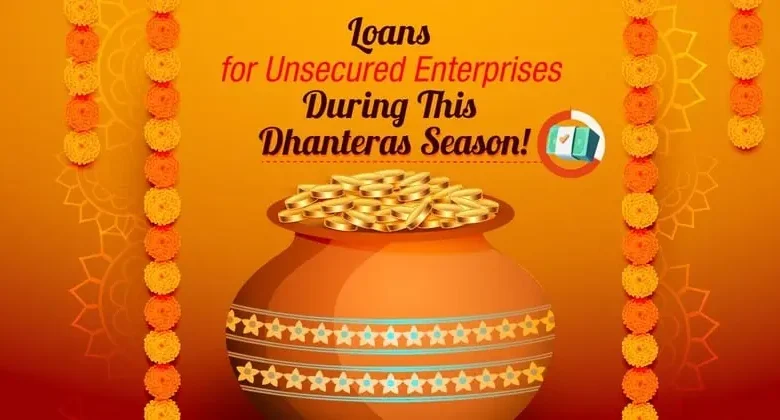 Dhanteras, a festival marked by boundless excitement and joy, is around the corner. During this auspicious festival, businesses are given a golden opportunity to go the extra mile to fulfil their customer demands. Dhanteras is traditionally revered as a day for acquiring new and valuable assets, and during this period, enterprises strive to surpass expectations to meet their customers' demands.
To fully harness the potential of this festive season, growing businesses must consider a strategic overhaul of their offerings. Manufacturers may contemplate expanding their operations or acquiring new machinery, while retailers might seek to augment their stock.
However, the need for financial assistance often becomes apparent in pursuing these aspirations. In such circumstances, the invaluable support of an unsecured business instant loan becomes an indispensable lifeline for businesses poised to seize the opportunities presented by this auspicious time. If you wish to know how a business loan can help you, then worry not, as this blog will provide a detailed guide.
Tips to Boost Your Business this Dhanteras
Here are a few tips that will help you grow and seize festive opportunities by availing business online loans:
Dhanteras is the right time to review the sales record and buy inventories to expand the business processes. Strategically identifying the best products and services with maximum performance during the season can fetch profits.
Diversify Product Offerings
As a savvy business owner, capitalise on this by introducing limited-edition products or services tailored to consumer purchasing patterns around Diwali. Diversifying your offerings can significantly boost sales during this time.
Offer Special Festival Deals
During festive seasons, sales and discounts are some of the leading marketing ideas that businesses usually adopt. Thus, you must offer special festive deals on high-demand products to stay competitive, grow, and attract new customers. For instance, people often consider purchasing utensils and kitchen items as a promising act on Dhanteras. Provide discounts for purchases above a certain amount or multiple packs or combos. These enticing offers can help your business stand out and attract more customers.
Moreover, you can also reward your loyal customers with special discounts or gifts. Encourage repeat business and word-of-mouth referrals.
Physical retail stores experience a surge in customer footfall during the Diwali season. To handle the increased demand effectively, consider hiring additional staff. Ensure you communicate this need well in advance to current employees, encouraging them to spread the word within their networks. Hiring additional help for the short term will promote teamwork and ensure that you can manage the high-pressure period effectively. With an unsecured business loan, you can quickly pay for your expenses.
Start Online Marketing of Your Business
If your business is not already leveraging the power of social media and online marketing, Dhanteras is the ideal moment to get started. Establish your online presence to reach a targeted audience more likely to purchase.
Creating an effective online marketing strategy might require an investment, and unsecured business online loans can help you finance this important aspect of your business strategy. This can attract customers who prefer to shop online.
Benefits of Applying for Business Loan During Dhanteras
Applying for a business loan through an online loan app during Dhanteras can be wise and beneficial. Keep scrolling through to know the details:
Business loans often have a faster approval and disbursement process than business loans. This can be advantageous when you need funds promptly to capitalise on the increased demand and sales during the festive season.
No Business Documentation
These loans usually don't require extensive business documentation, which can be a relief if you're a small business owner or entrepreneur without a well-established business credit history. This can make the application process more straightforward.
These unsecured online loans, so you don't need to pledge business or personal assets, like your home or car, as collateral. This reduces the risk to your business and personal assets and offers peace of mind so you can easily concentrate on your business growth.
Business loans usually come with competitive interest rates, especially if you have a good credit score. This can make them a cost-effective option for financing your business needs during Dhanteras.
Collateral-free business loans offer borrowers the convenience of choosing repayment tenures spanning 12 to 36-48 months, allowing for comfortable repayment schedules.
Thus, the convenience offered makes business loans the best option whenever you require instant cash. If you plan to apply for an instant loan for your business growth, then you must research all the available options and apply through the most reliable loan app. True Balance is an instant personal loan app offering versatile loans through RBI-licensed NBFCs. With its loan apply feature, you can borrow up to ₹1 lakh while staying in your comfort zone. You can receive the amount in your account within a few minutes of application.
For an easy loan apply, you must download the True Balance app from the Play Store to get a loan from a reliable and trustworthy app.