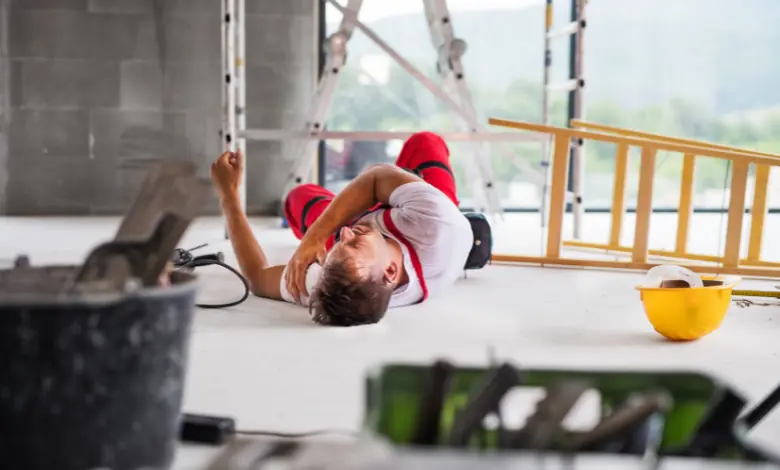 Although you may not see workplace injuries often, they happen more often than you think. And they don't only happen in dangerous industries, either. Reports show that there are 2.6 million non-fatal injuries per year.
These injuries can come in many forms.
Unsafe environments
Slip and fall accident
Employer negligence
Employee negligence
Faulty products
The question is, what will you do after suffering from a slip and fall at work? Without taking the right steps, you won't be able to file for workers compensation and get the help you need to deal with your injury.
The guide below details the steps to take to deal with a slip and fall accident-from the initial doctor visit to getting compensation for your injury.
Visit the Doctor
Whether the accident at work is your fault or your employer was negligent, the first step to dealing with the accident is to visit a doctor. Even if the slip and fall injury you suffered doesn't appear too bad, you never know if there are underlying issues that don't appear at first. And if you have any of those problems, they may worsen if left untreated.
Head to whatever doctor you want to at first. Eventually, your employer or the insurance company may want you to visit their own doctor. But don't wait for confirmation about who to visit to get help.
Report the Accident
Once you receive treatment for the accident, you can report the accident to your workplace. Track down your supervisor to let them know what happened.
Once you do, they will provide you with documentation to fill out. It will be a form to let the company know what happened (data to prevent it from happening again in the future) and the insurance company for processing your claim.
Provide as much information as possible to improve your chance of a successful claim. You want to make the insurance company's job as easy as possible to determine your eligibility for compensation.
Gather the Details
Once you have the paperwork to fill out, you must collect as much evidence as possible about the accident scene. Make sure you keep track of where the accident happened, its cause, and witnesses that can confirm your story.
These are important things the company needs to know to make the area safer. Think about poor lighting conditions, slippery floors, visual obstructions, and other hazards.
Make sure to also collect witness statements. Other employees can testify to the conditions that caused the accident, so collecting these statements will confirm your story and push the company to make the area safer.
Document Your Injury
The other thing you'll need to keep track of during this process is your injury. You may not have all the details initially when you turn in your accident claim. As a result, the insurance company won't have all the details.
Keep track of all your injury information before and after your claim submission. Keep it in a format that's easy to read and organized.
Once the insurance company returns with your claim results, you can give them any additional information that wasn't available before. You can also send updated information if there is something important they should know that impacts your compensation.
Turn in Your Documentation
Once you finish collecting everything, you need to turn in your claim form and documentation. But there are some differences in this situation compared to a typical accident. Since your employer is the entity with insurance, it's on them to handle the insurance claim.
Because of this, you'll hand your claim to your employer. Track down your supervisor or HR representative and give them everything you have.
Once you do, they will hand everything to the insurance company. The claim process will begin once this happens.
Just make sure you don't wait too long to do this. There are time limits for filing a claim in many locations. File yours as quickly as reasonably possible.
Wait for Your Claim Result
It's a waiting game once your employer files a claim with their workers compensation insurance company. During this time, continue things as normal. Continue work as usual if possible and continue getting medical treatment.
During this time, the insurance company will assign a claims administrator to investigate the claim. They will speak with everyone involved and investigate the accident.
Most states have limits on how long it takes for the investigation to occur. Look into how long the requirement is in your state to ensure the insurance company doesn't go over that time. In some states, your claim is automatically accepted if the insurance company takes too long to deliver a result.
Consider Hiring a Lawyer
Many workers compensation claims are open and shut. You get the claim results quickly and don't need to worry about having your expenses paid for.
But in other situations, things aren't as straightforward. You may have a more complicated case or an insurance company that doesn't want to pay out a settlement. After all, many insurance companies will look for any excuse to avoid paying a claim.
Don't hesitate to hire a workers compensation lawyer to help in cases like this. An experienced attorney can help you navigate the legal complexities of workers compensation. They will work with you to come up with the best case for your claim and help you take all the proper steps to get compensation.
Take a Slip and Fall at Work Seriously
Suffering from an injury is never a pleasant experience. You're going to the doctor to learn what's wrong and may have medical bills to contend with. And when you suffer from a slip and fall at work that isn't your fault, you deserve compensation for your injury.
Knowing the proper steps to take will be essential to getting the compensation you deserve. Follow the steps above to take care of your accident the right way.
Of course, suffering from an accident isn't the only workplace situation you may need help with. Check out the blog for more insightful posts about dealing with workplace issues.