Business
How to Choose a Commercial Heating & Cooling Company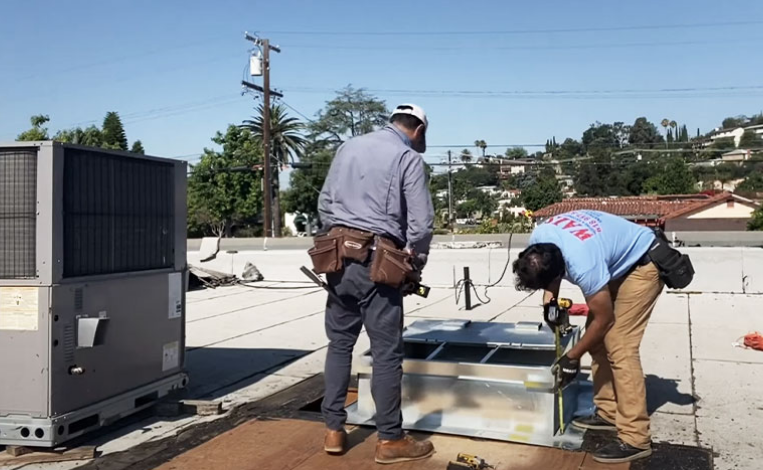 If you're a commercial facility manager or a business owner, you already know how important an HVAC system is to keep employees, customers, and clients happy. But as HVAC systems are prone to repairs, your HVAC unit will have to go through at least one maintenance checkup annually. For HVAC maintenance checkups, if you select an inexperienced heating and cooling company, diagnostic or maintenance will take longer. Besides, it's almost guaranteed that you'll be unsatisfied after the HVAC maintenance service.
In some cases, your HVAC unit may start to perform poorly after the maintenance service. Eventually, all these will impact your business and commercial facility negatively. This is why, whenever you require commercial HVAC maintenance service, you must select an experienced and reputed commercial heating and cooling company. But how do you know which heating and cooling company is perfect for you?
5 Things to Look for When choosinga Commercial Heating & Cooling Company
1. HVAC License &Certification
Before hiring an HVAC service professional or company, the first thing you'll have to check istheir HVAC license. A valid HVAC license indicates that the company or technician has enough knowledge and experience in handling HVACunits.
Apart from the HVAC license, you'll have to check their certifications as well. These certificates indicate that the HVAC company follows all the guidelines and safety protocols while servicing the HVAC unit.
When you hire such an HVAC professional or company, it's almost guaranteed that you'll get the best possible commercial HVAC service.

On the other hand, if you hire an HVAC company that doesn't have any HVAC certificate or license, there is a high probability that you'll be unsatisfied after the service. Besides, while repairing, they may damage your commercial heating and cooling unit. This is why it's always better to hire an HVAC company or professional who has all the required certifications and licenses.
2. Experience in Handling Commercial HVAC Units
While shortlisting the HVAC companies, you'll have to keep in mind that the commercial heating and cooling service is different than the residential HVAC service.
In commercial heating and cooling solution, all the components are packaged together. Besides, commercial HVAC unit installation is a bit complex compared to residential HVAC units. For example, due to the large area, HVAC design and air duct installation require special attention from the HVAC Company. And if it'snot done properly, your commercial HVAC unit won't function properly and maycause a system failure.
Unfortunately, without understanding these differences, most business owners hire a residential HVAC service company for their commercial HVAC unit and remainunsatisfied.
One of the biggest advantages of hiring a commercial heating and cooling company is that they bring all the tools and experience to the table. As a result, you get the best commercial HVAC service and run your business smoothly.
3. Labor Warranty
Sometimes after HVAC installation, you may require labor support to fix some additional issues. But it doesn't come cheap. You'll have to spend a decent amount of money on hiring HVAC professionals. Here, labor warranty comes into play.
Most reputed commercial HVAC companies provide labor warranties. This labor warranty covers all the labor costs after the commercial HVAC installation service. Besides, if you face any problem with your commercial HVAC unit after the installation, they will send their technicians to resolve the problem.That's why before hiring a commercial heating and cooling company, you'll have to ensure that the company provides a labor warranty.
4. HVAC Insurance & Warranty
As we all know, HVAC units are very sensitive, and if it isn't handled properly, your HVAC unit will be damaged permanently. This is why it's important to hire an HVAC company that offers HVAC insurance.
Under this insurance, the HVAC company will be liable to bear all the costs and repair fees if the HVAC company damages the HVAC unit during maintenance or service. This insurance will protect you from unwanted expenses and ensure top-notch HVAC maintenance and installation service.
5. Reputation & Good Reviews
If you want to get the best commercial HVAC maintenance and repair service, you must select a reputed and well-experienced HVAC company. You can check different review websites to know about the HVAC companies. Besides, you can ask other business owners about specific commercial heating and cooling companies.
Google Reviews and Yelp provide authentic reviews about different businesses. These platforms can automatically detect fake reviews and remove them from their review platforms.
You can visit these review platforms and gather information about the HVAC companies. This will give you a clear idea of what to expect from specific commercial HVAC repair and maintenance companies.
If you're looking for the best commercial heating and cooling expert in Texas, Green Leaf Air provides one of the best commercial HVAC services. They have some of the best heating and cooling technicians who are experienced in all sorts of commercial heating and cooling solutions. Moreover, all the technicians of Green Leaf Air have HVAC licenses and follow all the protocols and guidelines set by the government and environment agencies.