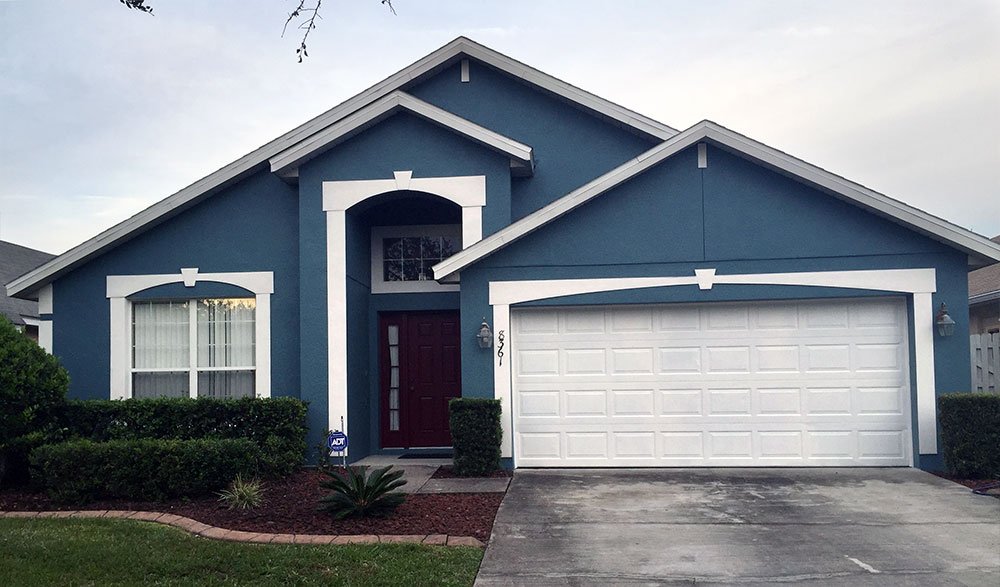 A house exterior finished with stucco coating, keeps the valuable property long-lasting, durable, and attractive. It protects the property against various elements effectively. But, over time the color of stucco siding can fade. However, proper preparation, right paint, and quality painting materials can beneficially work on the exterior stucco finishes.
What Makes Stucco Painting The Best Idea? Review The Reasons
If you look around your neighborhood or if you are searching for a new house, you will see various attractive walls and fine colors. Being one of the oldest materials, stucco siding has gained considerable attention.
About stucco
Stucco is a popular wall coating material which is similar to plaster. It is often said and believed that the material is used to cover the frame construction on the exterior of a building. But in fact, it can also be used for building interiors.
Stucco siding needs low-maintenance and if maintained in the right way can keep your house look beautiful for years. This makes it the most popular material for house exterior. An interior and exterior stucco contractor near you who also offers painting services can in the best possible way, help you understand the unique advantages for getting your interior and exterior stucco walls painted.
Keeps Moisture Away – The stucco absorbs the rainwater and sooner or later becomes darker until dry. Stucco paint will seal the material entirely and it will prevent moisture penetrating it. Furthermore, painting your stucco walls will keep them maintained and consistently durable for years; even during the rainy days.
Yes, stucco indeed absorbs moisture. Painting stucco with the best quality paint can keep it waterproofed and prevent damp spots. There are some unique painting schemes available specifically for stucco that can make the material even more weather resistant. Penetrating moisture will keep your house maintained and more attractive for years ahead.
Hides Stains – You might have experienced, probably beneath the window frames, some vertical lines of water and rust stains. Painting stucco will block and hide these stains. It is good to hire professional interior & exterior stucco contractors. Professionals have talent, skills, and experience to carry out the work in a way the stains don't show up for years.
Repair Hairline Cracks – Damages like small hairline cracks can turn out to be more problematic over time. If not taken proper care of, stucco chunks will soon appear which might need costly repairs to get rid of. In the view to repair these hairline cracks, painting the walls with thick high-quality paint is the best solution. Painting can fill the cracks naturally.
Professional help is a must for exterior stucco repair if there are larger cracks on the outer wall of your house. Before painting the painter/repairer will fill the cracks with exterior caulk or masonry patching. The crack filler should be flexible. Since stucco is porous, filling the larger cracks with caulk will not go perfectly. However, the process can still make the cracks blend way better with the painting and make it appear much nicer.
Stands out on the curb – Fresh coats of paint can make your stucco house look unique and noticeable. Painting stucco is an easy solution to getting the best appearance of your house exterior if you want to keep it looking more and more beautiful for years. However, the right paint can speak to your neighbors, friends, and whoever visits your house by creating an utterly attractive, classic look.
Protects From UV Rays – Ultraviolet rays work just fine in spoiling the durability of your house exterior. So, if you live in a sunny, hot climate, you need to understand that your local climate can cause structural damages and cracks in the masonry. Moreover, structural damages often weaken the functionality of stucco. Painting can keep your exterior walls insulated and also protect them from the damaging UV rays.
Flexible to adapt arrays of Paint Color – Flexibility is the greatest advantage of stucco. It allows you to choose a stucco paint hue from arrays of colors based on your specific preferences. You have various choices to choose from; whether you want to give your stucco wall a traditional earthy tone, or you want to give it a shade that is darker than the existing stucco color or simply want to give it a bright and bold look, you can choose any shade you wish.
What is the right time to get your stucco walls painted?
Not often! Stucco is a durable material. You only need to repaint it periodically. High-quality paint can keep your stucco last for years without blistering or peeling. But not overlooking the environmental factors, it is advisable to inspect the stucco every couple of years. Periodic checking will help you determine the right time to repaint the stucco. To prevent structural damages or moisture, it is vital to paint the stucco as early as you see stains, hairline cracks, or peeling off the stucco.
Get Professional Help
Painting stucco is beneficial in many more ways. But, it is essential to ensure that the process is completed correctly. However, you need to have stucco experts and the best way to move ahead is through the Internet. Give it the 'interior & exterior stucco contractors near me' search and hire the most experienced and the best one that also offers painting services for stucco walls and fits well to your needs and budget. A professional can suggest the best type of paint for your house, the perfect color hue, and will deliver the best quality and durable results.