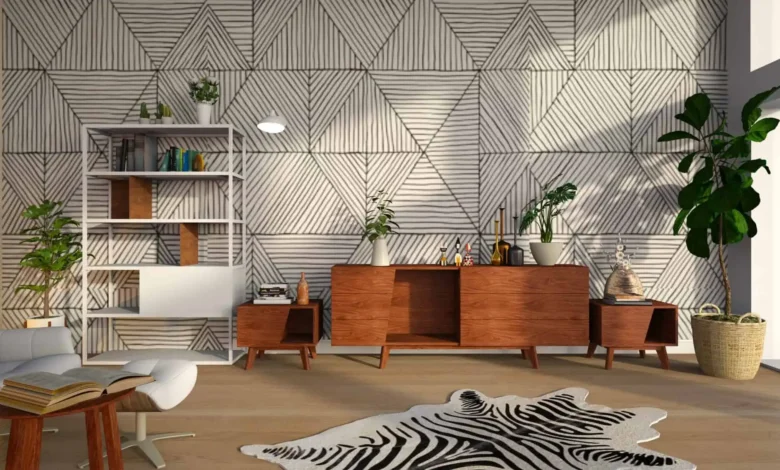 Accent walls and ceiling treatments are great ways to showcase a specific color, pattern, or design muse. Whether you're refreshing a room or you want to pull together a new look, they're a great way to bring a new bounce of energy to a space.
If you're considering accents for your ceiling, you might be on the hunt for some transformative accent ceiling ideas. After all, ceilings are big and open, and they can offer a great distraction in a room's details. With the right treatment, you can minimize your distractions and make a bold centerpiece in your room.
Find a few options for accenting your ceiling below, and get started on your next project!
Read on to learn more.
1. The Classic: Painted Ceilings
Transformative accent ceilings are a popular trend in home decor that can instantly elevate any space. One of the most classic and timeless ways to bring this trend into your home is through painted ceilings.
By choosing a bold color or unique design for your ceiling, you can add depth and character to a room that is often overlooked. Whether you opt for a vibrant geometric pattern or a serene sky blue, a painted ceiling can completely transform the atmosphere of a room. Not only does this approach add visual interest, but it also allows you to personalize your space and make it truly your own.
You can paint your ceilings in a lot of different ways, so this design choice will definitely give your home a touch of style and creativity. Discover the secrets to achieving a stunning and polished finish on your painted ceilings. Click here to learn more and take your ceiling makeover to the next level.
2. Wooden Elegance: Exposed Beams
One transformative accent ceiling idea that can instantly elevate the elegance of any home is the use of exposed wooden beams. These beams bring a warm and rustic feel to a space, creating a cozy and inviting atmosphere.
Whether used in a traditional or modern home, wooden beams add character and charm. They can be left in their natural state for a more organic look or painted in a bold color to make a statement.
Additionally, wooden beams can be used in various patterns, such as herringbone or chevron, to add visual interest and dimension to a room. Overall, using wooden beams in your ceiling design is a classic and classy choice that will make your home look better for it.
3. Metallic Shine: Tin Ceiling Tiles
Adding a metallic shine to your ceiling with tin ceiling tiles can transform the entire look and feel of your home. These tiles come in a variety of finishes, from silver to copper to gold, allowing you to choose the perfect shade to complement your existing interior decor.
Not only do these tiles add a touch of elegance, but they also have a reflective quality that can make rooms appear brighter and more spacious. With their intricate patterns and textures, tin ceiling tiles can add a unique and luxurious touch to any room.
Whether you want to create a vintage-inspired space or a modern and sleek look, tin ceiling tiles are a versatile and transformative accent that will instantly elevate the style of your home.
4. Nature's Touch: Wood Paneling
Adding a new accent ceiling can completely transform the look and feel of any room in your home. For a natural and earthy touch, consider using Nature's Touch wood paneling. This unique and versatile material can be stained or painted to fit any color scheme and adds a beautiful and rustic element to any space.
Whether you want to create a cozy cabin vibe or add a touch of nature to an otherwise plain room, Nature's Touch paneling is the perfect choice. Its rich colors and textures will instantly elevate your home's interior, providing a warm and inviting atmosphere that you and your guests will love.
5. Textured Drama: Plaster or Stucco
Adding texture to your home's accent ceiling can truly elevate the design and create a statement piece. One of the most popular transformative ideas is using textured drama plaster or stucco.
These materials add depth and dimension to the ceiling, giving it a unique and dynamic feel. The intricate patterns and textures are not only visually appealing but also add a touch of luxury to the space.
Plus, the use of plaster or stucco allows for endless customization options, from modern geometric designs to traditional floral motifs. Whether in the living room, bedroom, or dining area, a textured drama plaster or stucco accent ceiling is sure to impress and add a touch of personality to your home.
6. Luxurious Elegance: Wallpapered Ceilings
Transform the ordinary ceiling of your home into a grand statement piece with luxurious elegance wallpapered ceilings. This transformative accent ceiling idea adds a touch of sophistication and opulence to any room.
Choose from a variety of designs, including intricate patterns, metallic accents, and bold colors, to create a truly unique and stylish space. The addition of a wallpapered ceiling can also visually expand the height of a room, making it appear larger and more spacious.
This luxurious upgrade is a beautiful way to showcase your personal style and add a touch of elegance to your home decor. Elevate your space with these transformative accent ceiling ideas and create a stunning focal point in any room.
7. Glowing Effect: LED Cove Lighting
If you're looking for a unique way to transform your home, consider incorporating glowing effect LED cove lighting into your accent ceiling design. This type of lighting can instantly add a touch of elegance and modernity to any room, creating a warm and inviting atmosphere.
It also has the ability to make your ceiling appear higher, giving the illusion of a larger space. You can choose from a variety of colors and customize the intensity to create the perfect ambiance for any occasion.
Whether it's for a cozy movie night or a vibrant dinner party, glowing effect LED cove lighting is sure to make a lasting impression. So why settle for a plain and boring ceiling when you can transform it into a stunning focal point with this innovative lighting design?
Explore and Discover These Accent Ceiling Ideas
In conclusion, incorporating these accent ceiling ideas into your home design is a unique and transformative way to enhance the overall aesthetic and atmosphere of your space.
So why not take your home to new heights with a transformative accent ceiling? Get started on your own design journey and elevate your home today!
For more informative topics, check out the rest of our site.
Also read: