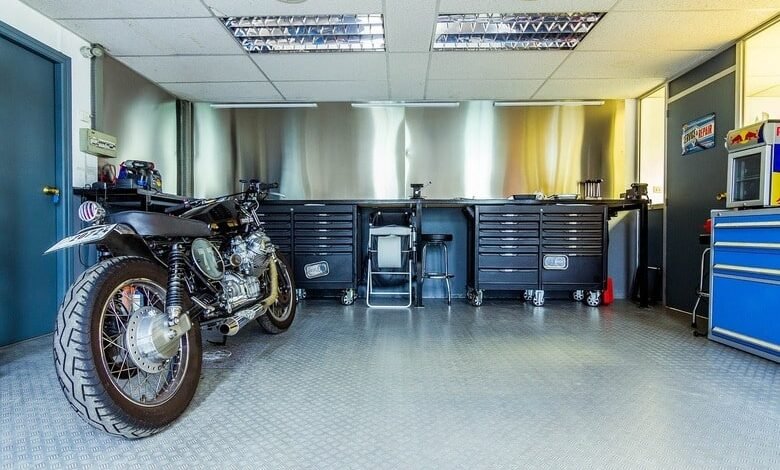 Does your garage space look like a mess? Have you been meaning to tidy up, but haven't gotten around to it?
Your garage is the perfect place to relax at the end of the day, have a hobby, or occasionally host gatherings of friends. But if you have stripped it down to empty concrete or a dusty old junkyard, you are not going to be as enthusiastic about using it.
Unorganized garage interiors can lead to potential accidents. A new garage interior could make the entire home more enjoyable. So whether you are looking for style, function, or a combination, there are snappy changes you can make to improve your home.
Do you want to learn more about garage interior ideas? Keep reading our guide to learn the little things you can do to makeover your garage interior.
1. Consider Hanging Shelves
The use of hanging shelves in a garage can help create added storage space and style for many different items. Hanging shelves come in a variety of different types, including standard shelves with brackets, wall-mounted shelves, floating shelves, and wire shelves.
Each type can provide a unique look and desired functionality. Hanging shelves for your garage is an easy, organized way to store items such as tools, paint, gloves, and other small items. You can also use them to display artwork and memorabilia items.
Try to customize the hanging shelves to suit the desired look and functionality of the space, and come in a variety of colors and shapes to complement any interior design. Here are a few examples of hanging shelves:
Standard Shelves With Brackets
These shelves are easy to install and come in different materials, such as metal or wood. They are also high quality and sturdy to hold many items. With many levels, you can store various items on these shelves.
Wall-Mounted Shelves
They come in various sizes to fit any space and can fit almost anything that you may want and need to store. You can choose from a range of styles to match the look of your garage, such as minimalistic, modern, or traditional.
Wire Shelves
They provide an airy, open look when hung on walls and make it easy to rearrange items on shelves without tools or hardware. They are lightweight and will not add too much extra strain to your walls and ceiling.
2. Install a Pegboard
You can easily install pegboards on your garage walls to create additional space to store your items. It provides a great way to organize items such as tools, sports gear, and other items that must be kept off the ground.
You can also customize the pegboards' design using different colors and sizes. Adding hooks will also enable you to access items easily.
Pegboards also give the garage a modern look. With its versatility and inexpensiveness, you can get the most out of the available interior design ideas and transform the look of the space for optimal storage.
3. Setting Up a Bar Cart
Setting up a bar cart is a great way to add personality to your garage renovation. To start setting up, begin by putting together your frame, shelves, and wheels.
Choose a color and style that complements the rest of your garage. Then, select décor pieces such as colorful cocktail shakers and decanters to personalize your bar. Choose sturdy glassware and stackable barware for easy storage.
Select a large display tray and add bottles of wine, mixers, and other spirits. Arrange these items in an attractive way on the shelves. For additional storage ideas, you can also opt for chic storage baskets or decorative boxes that can be hung on the wall and used to store wine bottles, tools, or bar accessories.
4. Set Up a Motorized Platform Storage Lifter
To maximize storage space and style for a garage interior, consider setting up a motorized platform storage lifter. This system allows you to place heavy items into storage with the simple push of a button. The lifter is designed for use in a garage interior and is available in a variety of sizes.
It is made up of a large metal storage box attached to a motorized platform which is suitable for loading and unloading heavy items into the box. It is easy to set up and can store many different types of items, including tools and equipment, bicycles, power tools, gardening tools, and much more. If you want one that can carry up to 400 lbs, check this out!
5. Add Extra Lighting
Adding extra lighting to the garage can add extra style and practicality when installing storage space. For a more modern garage, consider installing a set of pendant lights along the entire length of the ceiling. This will help you access items at the back of the room and also add a stylish touch.
Wall sconces can provide more direct lighting and can be a great way to shed light on special display pieces. If you're looking for an overarching light source, consider using a large flush mount light over the workspace so you can easily access all of your tools.
LED strip lights can be installed under shelves and counters to make work easier. Motion sensors can be a great addition to making sure no one gets hurt while navigating the garage in the dark.
6. Striking Wall Art
A bold, eye-catching piece of wall art can add both storage space and style to a garage. For instance, a large, vintage-style road map is a great way to both add visual interest to a wall and provide a functional place to store items.
Along with vintage-style wall art, abstract paintings, bold graphic prints, and outdoor-themed signs can all be used to help transform a garage into a beautiful and efficient space.
Garage Interior Ideas to Maximize Your Area
Using these garage interior ideas can be a great way to maximize the area that gets overlooked in the home. From hanging shelves to striking wall art, there are plenty of ways to use this extra room.
Try out these ideas and you'll discover a whole new world. Now go forth and unleash your inner interior designer!
If you find this article helpful and want to read more great content, check out our other posts today.