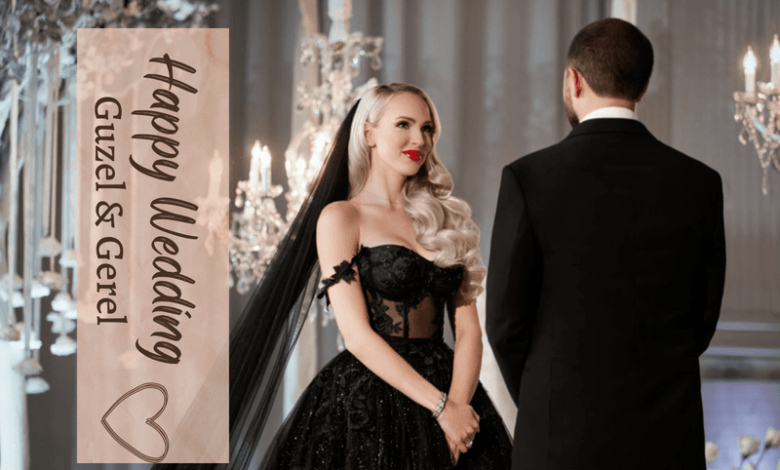 Here comes the bride, all dressed in…black?
If you've been thinking about bucking tradition and going with a dark-colored gown for your wedding day, you might wonder if you're making the right decision. After all, we've all been inundated with images of blushing brides wearing classic white dresses as they walk down the aisle.
While there's nothing wrong with this standard, it's about time we give the edgy black wedding dress a little love. Today, we're sharing seven exciting benefits of rocking this look on your special day.
1. Rewear It Forever
The absolute best reason why black wedding dresses rock? They're infinitely more versatile than their lighter-colored counterparts!
Think about it. Around 60% of brides choose to preserve their wedding gowns after they say "I do", usually storing them in moisture-resistant boxes under the guest bed or in the back of a closet. Some women do so in hopes that the design might come back in style and a future generation will want to slip it on for size.
Others simply aren't sure what to do with the gown they paid so much for. They don't want to throw it away or even donate it, because it's so special. However, they can't exactly wear it to any other event, especially if it's elaborately adorned.
As a result, they pay hundreds or thousands of dollars to preserve it, then stick it away in some dark corner of their home only to forget about it for a few decades.
One advantage of wearing a black dress on your wedding is that most styles don't exactly scream "nuptials!" Even if you opt for a dramatic ballgown with a full skirt, it can still look like high-fashion formalwear. This way, you can pull it out for a variety of other events down the road, from religious ceremonies to special birthday parties and celebratory gatherings.
You're likely going to invest a significant sum of money into your wedding gown, so you deserve to wear it more than once. Unless you plan to upcycle it and turn it into something else, it just makes sense to go with a more practical color.
2. Don't Worry About Messes
On your wedding day, you deserve to kick your heels up and have a great time. This is one of the most important and memorable days of your life, and you shouldn't be forced to spend it fretting over stains and spills.
With a black wedding dress, you can head straight to the dance floor in confidence. If a little red wine spills down the front, it will blend right in. The same goes for cake crumbs, dipping sauces, and any other item on that mile-long buffet table.
When you aren't stressing over every little detail, you're free to really live in the moment. In one recent survey of 2,000 newlyweds, nearly half of the respondents said they wished they would have been more present and enjoyed the day a little more.
That can be impossible when you're highly aware of every little issue that could deface your valuable gown. Take some of that stress off your shoulders and buy a dress that doesn't show a thing.
3. Style It Easier
Another reason to switch over to the dark side? Styling a black dress allows you to flex your creative muscles and really highlight the accent colors you've chosen.
While those colors can pop equally well against a white backdrop, jewelry and accessories tend to be more neutral when you stick with a traditional palette. For instance, a bride might wear a dainty silver chain or small gold studs in her ears. Yet, bold signature pieces are usually left in the jewelry box.
This isn't the case with a black dress, like these from Cocomelody. On its own, the gowns are moody and intense, but they're really amplified with the right extras. Bright gemstone colors look especially beautiful next to this fabric, such as a ruby red necklace or oversized, opal earrings.
If you choose to style yourself on your wedding day, you might find that you have the perfect pieces right in your own collection! If not, you can find costume jewelry that looks like the real deal at most thrift shops or big-box stores. Black dresses also look gorgeous paired with colorful vintage heirlooms, making this the ideal time to bring out that special brooch from your grandmother, or that turquoise ring from your childhood.
Also Read: Ultimate Guide To Destination Wedding
4. Keep It All About You
On your wedding day, you should feel authentically you. This isn't the time to fit your vision and your dreams into someone else's mold. While you might entertain ideas from loved ones and look for inspiration in others, you should be the person who decides what the event will look and feel like.
For some brides, this means sticking close to tradition and doing everything like their grandmothers would have done. There's comfort and familiarity in going this route, and it's absolutely perfect for couples who choose it.
However, for others, this moment means something different entirely. These brides want to chart their own course and set new expectations, breaking free from preconceived notions and outdated ideals.
If the latter appeals to you, then you might be asking yourself, "Can I wear a black wedding dress?" The answer is an emphatic yes! It's time to embrace your personal style and never feel like you have to explain it to someone who doesn't understand.
When you look back on your wedding photos years from now, do you want to shrug your shoulders and wish you would have done things a little differently? Or, will you smile and know that your day unfolded just as you wanted it to? A black dress isn't a huge rebellion, but it does send a strong message that you're going to do you on your special day.
5. Look Fantastic in Photographs
Were you blessed with richly toned, olive skin? If so, then a pure white wedding dress might not wash you out. For the rest of us, however, this stark shade isn't exactly snap-worthy.
White tends to make wearers look paler and more ashy than they are in real life. While you can correct some of this coloring with the right makeup, you might not want to be all dolled up on your wedding day.
With a darker dress, you can't help but steal the show every time. This color photographs beautifully, especially against colorful backdrops like mountains or a field full of flowers. It's also a universally flattering shade for almost every skin tone, hair color, and body type.
6. Save Money
While this doesn't apply to every style, you can usually find black wedding dresses for less money than white ones! This is because white gowns are typically designated as bridal-only, meaning they can be marked up and sold for a pretty penny at a local boutique.
On the other hand, black gowns can be prom dresses, evening gowns, or corporate attire. Because they're so versatile and easy to source, their price point is often significantly lower.
If you're trying to plan your wedding on a budget, you'll appreciate the savings!
Another way to cut your costs? Consider buying just a long, black skirt and pairing it with a solid black top you already have in your closet. These are basic wardrobe staples that are easy to find if you don't already have them.
YOU MIGHT ALSO LIKE:
7. Easier to Find
Finally, let's talk wedding dress shopping. While some brides might adore the thrill of the hunt, others just want to go ahead and get the task over with!
No matter which category you fall into, it's reassuring to know that you don't have to spend hours and even days searching for that needle in the haystack. You can find black dresses at almost every department store, big-box store, and online formalwear retailer.
This gives you many more options to choose from, upping your odds of finding "the" one in your quest! You don't have to worry about scheduling an appointment at some exclusive bridal store or being forced into choosing a dress you don't actually love.
Black dresses might be a dime a dozen, but your black dress is out there. When you have a bevvy of options at your fingertips, it's that much easier to find it.
Rock a Black Wedding Dress on Your Big Day
It might not be traditional, but then again, neither are you. A black wedding dress sends a dynamic and powerful message: This is my day and I'm going to express my own personal style.
This is a huge occasion and you deserve to celebrate it in a way that makes you feel comfortable and confident. If you'd rather swap standard white satin for volumptious black tulle, then go for it and don't look back.
Need a little inspiration as you plan your honeymoon? Check out our Travel section for more tips!