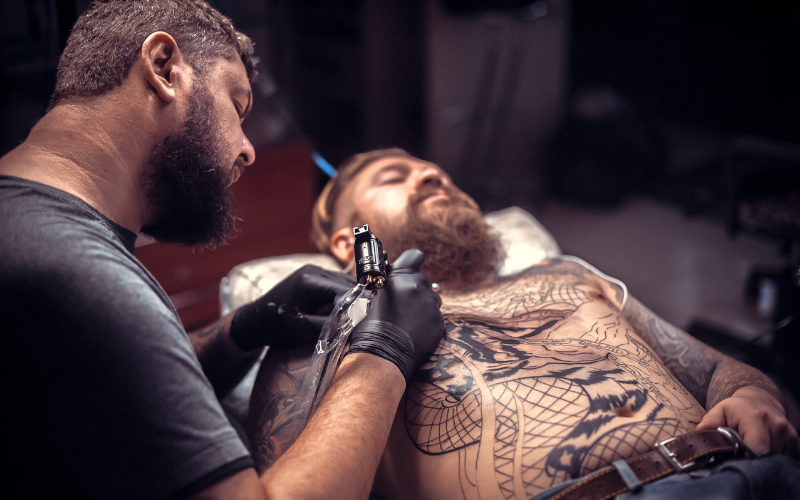 Tattoos have remained popular throughout history and are now more popular than ever. However, the industry has seen a rise in popularity and diversity among tattoo styles and trending looks in recent years.
Tattoos are forever, or at least that used to be true. With today's laser removal quality, removing or covering any old and out-of-date tattoo has never been easier. Experts such as www.counterpunchlaser.com are getting great results with removal, allowing you to change your mind as many times as you like!
With that in mind, what are the trending fashions of the tattoo industry?
There is an endless variety of designs and styles out there to suit any taste or style preference, so where do you start? Here are our picks for what style trends tattoo artists are seeing on their workstations today.
1. Tiny Lines
Thin tattoos seem to be the most popular and trendy design for today. These tiny little lines are not just for women anymore. They look great on men, too, especially if you have a small frame. They can be placed virtually anywhere on the body but are most often seen on the arms.
The sky is the limit with these tiny little designs, and what you can put them with can fit in many categories. You can go with any color you like, but black and gray look best with this style. Something extra to consider is that the more colors you use will increase your cost of getting it done because it takes more time for your artist to do so.
2. Abstract
Another popular trend is the abstract artwork-inspired tattoo.
It all started with the dotwork style, but has evolved into a multitude of designs. These include things like animals, flowers, and almost anything that you can think of.
The great thing about these tattoos is that they can be done in any color combination that you choose, and it gives your tattoo artist creative license to use their imagination to make something cool for you.
3. 3D Tattoos
These 3D designs consist of shading your art with multiple colors in order to give the illusion of depth into your design.
This look is very popular today and ranges from flowers, animals, geometric shapes, and a wide variety of other designs and ideas.
If you are a fan of this look, you should also consider that these tattoos are created with multiple colors, shading and can cost more than solid, single-colored designs.
4. Symbols
Symbol tattoos are popular for a variety of reasons: they are eye-catching, get attention, and most importantly, they have a deep meaning behind them.
Your symbols can literally mean anything that you want them to mean, whether you're a fan of Native American symbols, Celtic and Pictish symbols, religious symbols, or tribal designs.
5. Black and Grey
This trend is probably the most common type of tattoo design today. No matter your style or preferences, this look is very versatile and can be easily adapted to suit you!
Black and grey tattoos are done using only two colors: black ink for the inside and shading and grey ink for the outside lines.