Lifestyle
5 Eye-Catching & Decorative Plants To Gift Your Dearest
If you are planning to gift a plant to your dearest but are confused about which type of plants will suit them, here is the list of the five best decorative plants to go with. These are the best choices that suit all occasions and make their home attractive by filling it with positive vibes.
Plants are the best and trending gifting option for people who want to give something organic and natural to their beloved at their special moments. Decorative plants are the best option for gifting as they lift the conditions of living rooms or wherever they get placed.
Most people in this world love to spend their time in nature doing terrace gardening or kitchen gardening, and they are fond of decorative plants that look pretty different and can mesmerize anyone. That is why decorative plants are becoming people's first choice when they have to wish for their closet with a gift.
If you are wondering about different types of decorative plants you can give your dearest in their special moments, then read on.
1] Split Leaf Philodendron
Split leaf philodendron is a decorative plant that signifies beauty and health. As it comes from the philodendron family, the leaves rise directly from the stem one by one and split, which makes it peculiar and attractive.
However, finding Split Leaf Philodendron in a local nursery is quite challenging; you can easily get it from an online plant shop to wish your loved ones a healthy life.
2] Peace Lily Plant
The peace lily is a flowering plant with long leaves that is best for giving a tropical flair to the living space or garden. This flowering pot does not have any specific blooming time, and even it does not require direct sunlight. Giving this plant as a gift to your dear ones will help them to add prosperity to their bedroom, living space, or gardens.
3] Prayer Plant
The prayer plant is one of the eye catchy decorating plants, which is mostly used for uplifting spaces. It signifies true devotion and focus, and its leaf changes its pattern regularly, making this plant ideal for wishing your nearer ones on their special occasion.
A prayer plant is best to place where low light falls and can be kept easily in the bedroom where minimum sunlight falls.
4] Chinese Money-Plant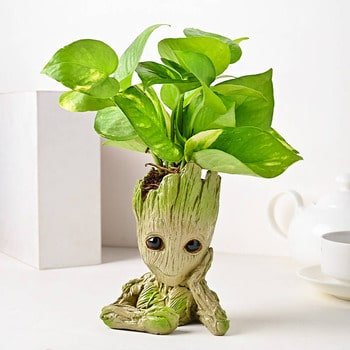 This plant is often known as a friendship plant or pass-along plant. In this Chinese plant, leaves come from the stem in the shape of smaller pancakes. So it is also known as a pancake plant.
Like the Indian money plant, the Chinese one also symbolizes prosperity, good luck, and fortune. Its attention-grabbing looks make it ideal for gifting or decorating the bedroom, garden, study room, etc.
If someone is starting a new inning in any field of life, then this plant is perfect for wishing them good luck and fortune.
5] Monstera
At last, we have mentioned Monstera, which stands apart from the queue because of its leaves in which there are natural holes and splits. It makes them look beautiful and gripping.
You can give a Monstera plant to your closet and nearer ones without hesitation because bigger leaves will increase the aesthetics of their house.
Wrap Up
Giving decorative plants to your dearest can be the best idea that helps them to decorate their houses and inspire others to follow the organic way of gifting. However, the above-listed decorative plants don't end here; you and also choose from other popular plants that include orchids, cacti, and golden pothos.