Health
What Are the Best Mattresses for Back Problems?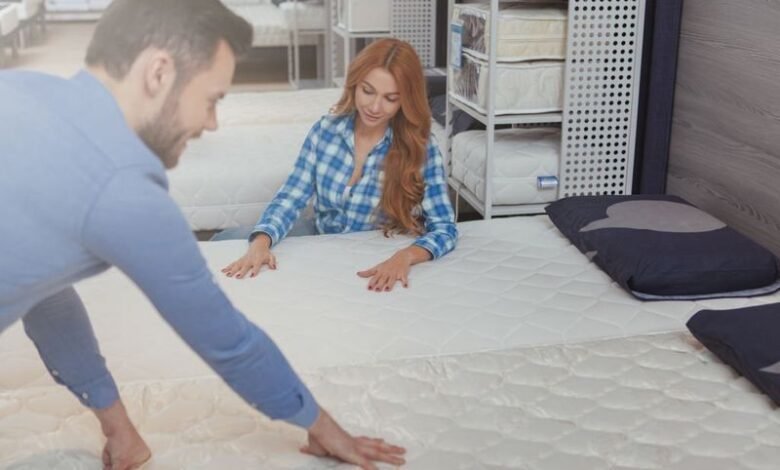 If you are suffering from back pain, you aren't alone. About 80 percent of Americans will experience back pain at some point in life. While you may be looking forward to having restful sleep so as to recover at the end of the day, back pain can negatively impact your sleep quality.
The right mattress can make a huge difference in how well you sleep despite your back issues. It can help promote proper spine alignment for more pressure relief, quality support, and restful sleep.
But shopping for a mattress is hard, especially if you have to factor in back pain. This is because the best mattresses for back problems won't be the same for everyone. Below is a comprehensive guide to help you choose the best mattress for your back issues.
DreamCloud Mattress
The DreamCloud Mattress is a luxury hybrid mattress that has five layers that offer the sturdy support of coils and comfort of memory foam. The cashmere and top quilted foam ensure you stay cool and cozy throughout the night.
It has a layer made of gel memory foam that contours to your body shape and enhances pressure relief where you need it. But the mattress is also firm enough to stop you from sinking too deep into the bed.
When you sleep on this mattress, it's a guarantee that your spine will be aligned and midsection supported. That's why it's a great option for those with back pain.
Nectar Mattress
Do you constantly feel like you have kinks in your back when you wake up?
Well, you don't have to feel like this any more thanks to the Nectar Mattress.
It has special foam layers and a medium-firm feel to help keep your spine properly aligned throughout the night. The mattress can help relieve back pain thanks to its comfort system made up of three separate layers of memory foam.
While the mattress's material compresses to hug your body, the Nectar Mattress has been constructed to avoid issues that can arise from memory foam being too soft. It's also usually ideal for side sleepers.
Saatva Classic
Made of memory foam, Saatva mattresses offer pressure relief to soothe tension and stress along your spine and lower back. The mattress is specifically designed for people with back problems. It has a Lumbar Zone support technology and active wire support in the middle of the mattress made for quality spine alignment.
You can get it in three levels of firmness—plush soft, luxury firm, and firm. If you are a side sleeper who prefers a soft, contouring, cushiony feel, you should opt for the plush soft Saatva mattress. The firm option is ideal for back or stomach sleepers while the luxury firm offers a balance of support and comfort. What's more, it's very durable.
Nolah Evolution 15
One of the reasons you experience back pain is sleeping on an unsupportive and uncomfortable mattress that doesn't properly align your body. Luckily, you can get relief from back pain by getting the Nolah Evolution 15 mattress.
It has a zoned pocketed coil system to stop midsection sagging and ensure your weight is evenly distributed across the surface. This helps promote a healthy sleep posture.
The support core of the mattress also has a foam encasement that fortifies its perimeter. It makes it easy for sleepers with back pain that need extra help exiting or entering the bed.
Depending on which type of sleeper you are, you can either choose among the three different firmness levels, – medium, medium-firm, and firm.
The Luxury Firm WinkBed
Are you thinking about a spine fusion surgery for your back issues?
Before you have surgery, consider buying the WinkBed mattress. It provides the ideal balance of contouring and support for individuals suffering from back pain.
The SupportCell polyfoam gives an extra touch of support, ensuring you have a healthy spinal alignment if you love sleeping on the back. The mattress supports your spine's natural curve instead of allowing your back to bend by sinking into the surface.
Bear Original Mattress
This mattress is much firmer. It's made up of four different layers. One of these layers is the responsive and supportive mattress foam that contours to your body's shape. It is also a great resource if you suffer from back pain.
The mattress is woven with Celliant Infrared Yarn technology. According to Bear, the patented tech converts your body's heat or natural energy into infrared light and emits it back into the body's tissues and muscles. This will help you recover more quickly from back issues.
Layla Hybrid Mattress
The Layla Hybrid Mattress is one of the best mattresses for back problems. It's made of a combo of coils and memory foam to offer next-level support to your back.
Its memory foam is infused with copper to make its firmness adaptive to your body weight. This allows it to provide increased support for deep compression areas, like hips.
In addition, this mattress model is reversible. One side has a soft, lush feel while the other is firmer and more supportive so you can enjoy the best of both worlds. Depending on your sleeping preferences, you can switch the mattress to the side you like best.
The Level Sleep Mattress
If you are dealing with back pain, the Level Sleep mattress can be exactly what you need for a more restful sleep. It has a foam topper that's made up of soft, medium, and firm foams and fits your body's curves.
The mattress comes with a patented and proven three-zone design to help you achieve natural alignment as you sleep. This works to reduce pressure on your hips and shoulders, leaving you with less stiffness and soreness when you wake.
Find the Best Mattresses for Back Problems
Suffering from back pain? Looking for the best mattresses for back problems?
The aforementioned mattress can help you get some back pain relief so you can enjoy good quality sleep.
You should also visit a doctor for a checkup because chances are your back issues are caused by an underlying issue outside of your mattress. Check out our Health blog category to learn more ways to be improve your wellbeing.