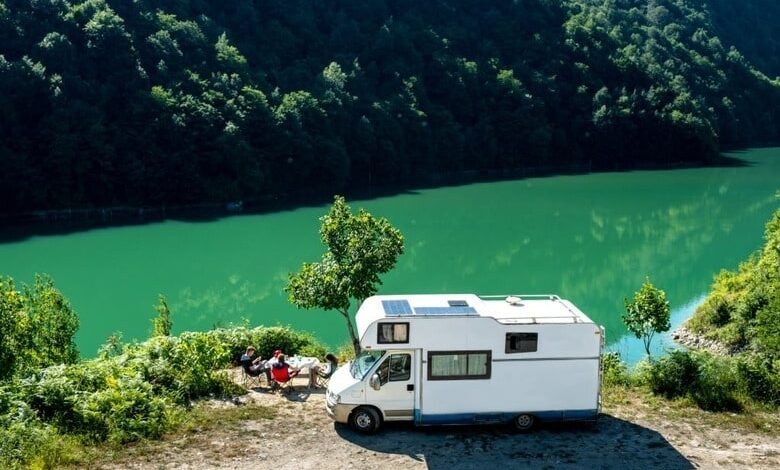 Are you an avid RV enthusiast looking for your next adventure? Utah boasts of some stunning destinations that are perfect for RV travel. From breathtaking national parks to beautiful lakes and rivers, Utah has it all. With so many amazing spots to choose from, it can be challenging to decide where to start your journey. Here are seven destinations that will take your breath away and make your RV trip unforgettable. So, pack up your gear, fuel up the tank, and get ready to explore the stunning RV destinations in Utah!
1. Discover Utah's Natural Wonders on Your RV Adventure
Utah is home to some of the most incredible natural wonders in the United States, and exploring them by RV is a great way to fully immerse yourself in their beauty. From the towering red rock formations of Arches and Zion National Parks to the winding canyons of Dead Horse Point and the unique geological features of Dinosaur National Monument, there's no shortage of breathtaking sights to discover on your RV adventure in Utah. Whether you're interested in hiking, wildlife watching, or simply taking in the scenery from the comfort of your RV, there's something for everybody to enjoy. So grab your camera and hit the road – Utah's natural wonders are waiting to be explored!
2. Explore Utah's National Parks by RV
Exploring Utah's National Parks by RV is an experience like no other. With stunning landscapes and scenic views, these parks offer some of the best camping opportunities in the country. From the towering sandstone cliffs of Zion National Park to the otherworldly formations of Arches National Park, there's something for everyone to enjoy. Take a tour of Canyonlands National Park, Utah's largest park, and marvel at its unique natural wonders. Bryce Canyon National Park's hoodoos provide a surreal experience, and Antelope Island Park offers a chance to see wildlife up close. With so much to see and do, exploring Utah's National Parks by RV is an adventure that can't be missed.
3. Top RV Camping Spots in Utah for Scenic Views
For those seeking stunning views while RV camping in Utah, there are plenty of options to choose from. Zion National Park boasts towering red rocks and cascading waterfalls, while the Castle Gate RV Park & Campground offers a picturesque mountain backdrop. Panguitch KOA is surrounded by stunning rock formations and Devils Garden Campground provides views of unique rock formations and arches. For a more secluded and serene experience, the Pigeon Mountain Loop Escape and Wind Walker Homestead offer scenic views of Utah's natural wonders. No matter which spot you choose, Utah's RV camping destinations are sure to leave you in awe of the state's natural beauty.
4. Experience Utah's Wildlife and Outdoor Activities on Your RV Trip
As a camper exploring Utah's natural wonders, it's hard not to be mesmerized by the state's diverse wildlife and outdoor activities. Utah's national parks and RV parks offer thrilling opportunities for hiking, biking, fishing, and more. Wildlife watching is a must when traveling by RV, and Utah provides plenty of opportunities to spot native species like bighorn sheep, elk, and mountain lions. Adventurous campers can also try rock climbing, kayaking, or river rafting. With stunning vistas and thrilling outdoor activities, Utah is the perfect RV destination for nature enthusiasts.
5. Tips for a Safe and Enjoyable RV Vacation in Utah
When it comes to planning an RV vacation in Utah, safety should always come first. To ensure a safe and enjoyable trip, it's important to keep in mind a few simple tips. Before setting out on your journey, make sure to research the weather conditions and potential road closures. It's also a smart idea to double-check your RV's equipment and safety features, such as tires, brakes, and lights. Additionally, always pack a first aid kit, emergency supplies, and plenty of water and food. To stay safe on the road, be sure to adhere to posted speed limits, avoid distractions while driving, and use caution when parking and maneuvering your RV. By following these tips, you can have a fun and worry-free RV adventure in Utah.
6. RV-Friendly Accommodations and Facilities in Utah
Utah offers a plethora of RV-friendly accommodations and facilities for travelers to enjoy. From campgrounds and RV parks to resorts and unique themed accommodations, there is something for everyone. Take advantage of the many amenities available, including full hookups, laundry facilities, shower houses, and camp stores. Some campgrounds even offer activities like fishing and hiking trails for guests to explore. And if you encounter any issues with your RV, don't worry. There are repair shops throughout the state that can assist you. With so many options, Utah is the perfect destination for an unforgettable RV adventure.
7. What to Do When Your RV Needs Repair While on Your Utah Vacation
Before heading to Utah's beautiful RV destinations, be sure to plan ahead! If you do encounter any unexpected repairs while on your vacation, don't worry – there are plenty of quality RV repair shops in St. George and other local areas that can help get everything back up and running in no time. So keep an eye out for reliable RV repair St George services during your next RV trip – it just might save the day!
Conclusion
In conclusion, Utah is a fantastic destination for RV enthusiasts looking for stunning natural wonders, scenic views, thrilling outdoor activities, and RV-friendly accommodations. With its amazing national parks, unique geological formations, and diverse wildlife, there is never a shortage of things to see and do in Utah. From Zion National Park to the Arches National Park, visitors can explore some of the most dramatic landscapes in America. Moreover, there are many RV campgrounds and facilities that cater to the needs of RVers. However, like any RV adventure, safety should always come first, so be sure to follow the tips shared in this blog to ensure an enjoyable and safe trip. Whether you're a seasoned RV traveler or a first-time adventurer, Utah should definitely be on your RV bucket list.