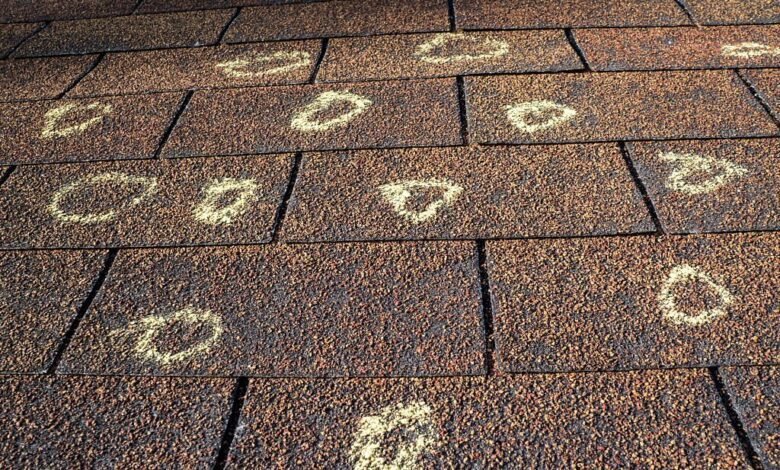 When a terrible storm hits, it has the capacity to wreak havoc on your home's exterior. A hailstorm, in particular, can be quite harmful to your roof.
Repairing a roof may appear to be a difficult task, but we've broken it down into a few simple actions. Here are some ideas for how to repair your roof after hail damage.
Assess the Damage
When your roof is damaged by severe weather or hail, it's critical to evaluate the overall condition of your home before hiring a repair business.
Identifying Hail Damage
According to a Colorado roofing company, hail is extremely harmful to siding, gutters, windows, and other materials. Look for indications that hail has damaged the material beneath your shingles on the roof in particular.
Missing granules, or shingles with missing shards, might be found on composition shingles or asphalt shingles. They could also be turned at odd angles or buckling or curling.
Those of you with metal roofs are less likely to suffer significant damage from a hail storm. Metal roofs are highly durable. However, you should still verify your ridge cap and trimming for signs that high winds have damaged the material's integrity.
Spotting the Damage
You don't need to go on a ladder if you're only looking at the roof damage. Try to get a good view of it from outside your property. Alternatively, stand in your yard and use the zoom on your smartphone camera to take close-up pictures.
Another option is binoculars or a scope. If the top of your house is extremely high up or at a low angle, check around among your neighbors' roofs to get an idea. Obviously, your roof may be constructed from a different material than that of your neighbors. However, generally speaking, homes in the same neighborhood were all built at about the same time and with similar designs.
Also Read:
Get at Least Three Estimates From Roofing Companies
Get three estimates from different roofing contractors. Because not all roofing companies are the same, it's essential to research your choices and get a comprehensive overview of prices in your area.
Support Local
Remember, getting estimates from firms that are local to your region has a few advantages.
In the first place, a local roofing business will be acquainted with insurance adjusters and might be able to help you file claim forms with your insurer.
Second, because they are nearby, local roofers will be able to finish the task faster. They won't have to go several hours to the job location.
Finally, a local expert roofer will be familiar with the relevant building regulations in your area.
Read online customer evaluations and contact references to locate the best contractors.
File Your Claim With the Insurance Provider
After examining your damaged roof and obtaining a few bids, it's critical to file a claim with the insurance providers.
What Insurance Will Expect From You
Depending on the sort of insurance policy you have, the claims procedure will vary somewhat, but in most situations, it entails having an assessor come out to inspect the damage. You'll need plenty of information at this stage, such as photos of your roof, repair quotes, receipts for materials purchased, and so on.
What to Expect From Your Insurance
Because each insurance company has its own standards for what is covered by their hail repair coverage, filing a claim might be difficult. Assume nothing when it comes to coverage.
Typically, however, roofing, siding/exteriors, windows, gutters and downspouts, skylights, and patio covers are all covered under home insurance policies. You may request someone to come out and make the repairs after your claim is settled.
Final Words
Hopefully, the repair job proceeds without a hitch for you. Having a roof over your head is important in life, so we don't want you to endure going without a properly functioning one any longer than necessary.
Assess the damage to your roof as soon as possible. After that, get quotes from a few local expert roofers. Then, fill out an insurance claim. Finally, work with your insurance and a local contractor to make the repairs necessary.
You will be back to normal in no time if you follow our recommendations.