Lifestyle
Romantic and Best Ways to Propose to Your Beloved at Home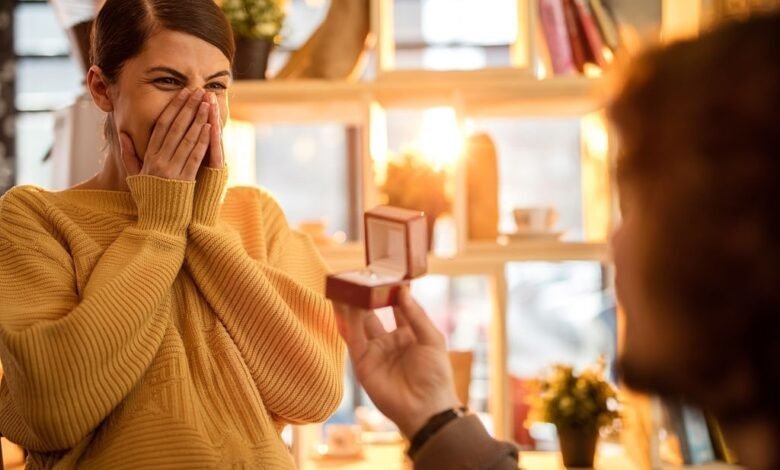 First and foremost, good luck! If you've come across this post, it's likely that you're considering methods to propose at home, which indicates you've discovered the person you like to live your entire life with.
Well, it seems you're exploring the best ways to propose, or you've already decided to propose within the confines of your own four walls. Not only does proposing at home provide a more intimate and relaxed atmosphere, but it also allows you to completely customise your surroundings, which means there are a plethora of creative ways to put your emotions on the show — truly.
So, if you consider it's the correct step for you, here are some house proposal ideas to get you started.
Arrange a candlelit dinner:
A candlelit meal is a favourite for everyone: it doesn't get much more charming. Cook their favourite meal; prepare a speciality dish you know they won't be able to refuse or order their favourite weekend treat takeaway.
Set the lights, scatter petals throughout the room, choose a soundtrack, and start the beverages flowing to create a party atmosphere. It's up to you which meal you ask, but some amusing possibilities include frosting your question into the dessert or delicately placing the ring on top of one of the dishes. Just ensure it's noticeable enough to avoid being eaten by mistake.
Host a movie night:
This soothing home proposal is ideal for couples who enjoy nothing more than a Netflix binge. Plan a relaxing night in front of the Television, but have the movie ready to watch before your other half walks into the room.
Instead of the expected movie, you may play a slideshow or film of your best times together, with the last slide reading 'would you marry me?' If you're a big movie fan, you could even make it a 'trailer' for your wedding.
Don't stress if you're not a good filmmaker; there are several applications that make this sort of edit a lot simpler than you could ever imagine.
Bath proposal:
Prepare a bathtub for two with champagne, rose petals, candlelight, and bubbles. Have the ring packed beneath a towel and propose to her in the middle of the bath; she won't anticipate it. (However, be careful the ring does not slip down the drain; it would not be a pleasant conclusion to your momentous occasion!)
Decorate with customised messages:
In your loved one's favourite space, apply customised wall stickers to express "Will you marry me?"
You'll need to think about when you would like them to read the message. Do you want them to notice the stickers when they get home from the office and go into the kitchen? Is it common for your loved one to take a bath first thing in the morning? Place the stickers on the bathroom wall the night beforehand so they have a nice surprise when they awaken.
Another creative and unexpected approach to propose is to use glow-in-the-dark stars to spell out the question on the bedroom ceiling. Once you turn off the lights at night, your partner will see the message blazing above them.