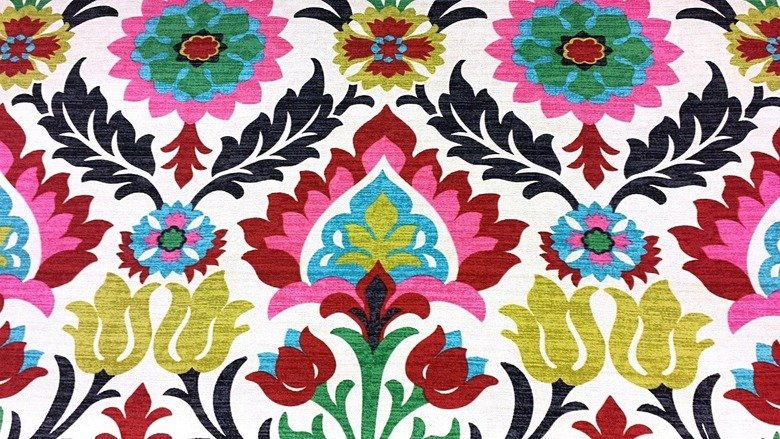 The fabrication of beautiful designs on cloth is one of the most enduring and functional components of decorative art. Patterned fabrics have become an integral part of everyday life. Textile design is the art of creating designs for knitted, woven, and non-woven fabrics. It is additionally embellished with a cloth. This method comprises developing patterns for cloth for home usages such as towels and carpets. Textile design is full of beautiful colours, prints, and patterns. Creating an eye-catching design, on the other hand, is a more challenging and time-consuming task. It is necessary to have a full awareness of the different facets of textile manufacturing, market needs, and contemporary advances. Textile design requires three skills: original design, working with a correct colour palette, and repetition. It is both difficult and profitable.
What does a fabric designer do?
Textile designers make their own designs using a variety of fabric decorations and manipulation techniques. Designers of textiles develop patterns for woven, knitted, or printed materials. These may be used to make furniture, apparel, packaging, as well as floor and wall coverings. Textile designers must examine textile industry trends and projections. This assists in determining what is likely to sell and leads to a greater understanding of new production technologies.
Some designers work for businesses such as design firms, manufacturers, and retailers. To build a product, they will need to communicate with clients, technical staff, marketing, and purchasing personnel. Initial drawings will be created by a textile designer by hand or on a computer. They will either create samples themselves or have them created. While some patterns are mass-produced by machines, others are created using traditional techniques like embroidery or block printing. As a textile designer at a manufacturer, store, or design firm, you will typically work from 9 a.m. to 5 p.m., Monday through Friday, with additional hours required during peak seasons. You will spend a significant amount of time at a computer, creating textiles and modifying patterns. You may be required to travel in Australia or abroad to exhibit at trade shows or to meet with clients and manufacturers. Freelance textile designers frequently possess essential craft abilities and may complete whole projects. Techniques like embroidery, hand-printing, and block printing may be used by a freelance designer. They can sell these directly from their studio, at craft fairs, or in retail locations. As a freelance designer, you will often divide your time between design and marketing. You may also need to supplement your income through other means, such as teaching.
While there are no educational qualifications for a profession as a textile designer, textile designers sometimes hold degrees in surface design, fashion design, art, or textile design. Prospective textile designers learn about the process through suitable training. They learn to examine and comprehend numerous textile features like weight, substance, flammability, and durability, as well as how the textile will be utilised, and then base their designs on that knowledge. They explore printing, dying, manipulation, and decoration methods to discover how to use textures, patterns, and colour. Specific concepts are used to arrange the structural aspects of a particular design at schools that teach the fundamentals of textile design. Unity, balance, focus, proportion, and rhythm are among the principles. The way these concepts are used influences the design's consequences.
Skills That A Fabric Designer Needs
Textile designers must also have the creative abilities to develop design samples and drawings, as well as the ability to create custom presentations utilising different printed or digital designs, whether written, drawn, or vocal. Sewing or weaving abilities, graphic design, and line drawing are also advantageous. These design strategies help to assist textile design work and assess if the end result is beneficial or bad.
Colour theory in textile design provides rules and fundamental ideas that might assist a textile designer in creating visually appealing colour combinations. Tone, contrast, and colour analogies are all key components employed frequently in this profession. All textile designers should be familiar with luminosity, the sun spectrum, pigment theory, and colour definitions. Although approaches vary, two basic techniques are commonly utilised in textile design: painting and art-based techniques. Among the methods used by textile designers include airbrush, splatter or spraying, stippling, hatching, dry brush techniques, shading, sponge painting, and marbling. Batik, tie-dye, ikat, kalamkari, block printing, screen printing, stencilling, and transfer printing are examples of textile printing processes.
Making the appropriate contacts is critical for many textile designers' success in the industry. The objective is to build long-term, mutually beneficial connections with clients and others in the business. School is a fantastic place to start. Many universities offer outreach and placement programs that can connect designers with other industry experts.
Where can you get fabric design training?
Most of us are creative in some way; we like to sketch, paint, and make collages. While all of these activities are fantastic and inventive, what if you wanted to transform these crafts into textile designs but didn't have the digital design software skills to create your file for fabric printing? You can just learn it. The digital textile design may be learned in bite-sized bits. It is a really simple procedure in which you may start by converting your artwork to digital format and learning the foundations of Photoshop. Everything new may seem frightening at first, but if you take it one step at a time and steadily build your confidence, you'll be up and running in no time. Although the goal of surface pattern design is to create attractive tactile products, we live in a digital society. It is a design made in a digital domain long before that wonderful product is built. Yes, you will need a keen eye, good sketching skills, and a passion for painting. There are also many fabric design training courses available to help you hone your artistic ability.
Photoshop lessons aren't all the same. At The Print School, you may study Photoshop from the industry's best as well as the ins and outs of surface pattern design from experts. The Print School's fabric design curriculum offers Adobe Photoshop classes in Australia, which provide you with all of the tools necessary to create a full digital fabric design with pen-drawn motifs. You may quickly grasp the principles and be designing and printing your own fabric! You'll leave with the skills you need to continue your study into the realm of textile design and printing, with a concentration on the basics of Photoshop.
Your designs must constantly be up-to-date and cutting-edge. You will also need to learn new techniques or processes. New technologies will develop to help you create new designs or speed up your procedure. It may seem daunting at first, but once you've conceptualised your ideas on paper or digitally, and understand the various materials and printing procedures, you'll be able to produce beautiful, entertaining, trendy patterns and have the ability to print them on the fabric of your choosing. You can also specialise in printmaking, fabric development, surface design, and other areas. Some textile workers go on to become textile historians and anthropologists, researching the history and culture of textile design. Consider working as an assistant to a professional designer or applying for an entry-level position at a design business to get your first job in the sector. If your internship goes well, you can enquire about a full-time career with the same organisation.
For almost 30 years, The Print School has created some of the most gorgeous, hand-crafted textile designs for businesses all around the world. Their creations may be seen in retailers such as Givenchy, Asos, Seafolly, and Anthropologie. Their team is the best the industry has to offer, and they've learned how to use that experience to develop The Print School and share all of its insider knowledge with their students. They are here to assist you in realising your full potential, breaking through creative obstacles, and shining in the world of textile design. Their studio has been producing some of the most gorgeous, hand-crafted textile designs for businesses all around the world, including well-known customers such as Givenchy, Asos, and Anthropologie, to name a few.
Do you want to learn about fabrics, creative processes, and digital seamless repeats? Not sure where to begin? Whether you're just starting out or have a few notches on your belt, it's time to level up and develop or extend the talents you currently have or master the skills you'll need to carve out the career you've always wanted. You may even broaden your skill set and build your business with The Print School's assistance, perfect your technique and charge more for what you do, and generate more eye-catching outcomes in a more efficient manner, allowing you to make your mark in the world of fabric print design. You can see more details here at the Print School, you may learn to design and produce stunning artwork, technically duplicate your creative ideas, manufacture your own goods, and prepare your files for digital textile printing. With the support of our industry specialists, we can teach you essential digital textile design principles and assist you in designing prints and patterns for fashion, homewares, or any other project you can think of!