Real Estate
5 Reasons to Consider Investing in Real Estate in Austin
Austin, the capital of Texas, has emerged as one of the hottest real estate markets in the United States. With a thriving job market, a diverse economy, a growing population, and a vibrant culture, Austin offers compelling reasons to consider investing in its real estate.
Below are five key factors that make Austin an attractive market for real estate investment.
1. Affordable Prices Compared to Other Tech Hubs
Despite the rapid job and population growth, Austin still has relatively affordable real estate prices compared to other major tech hubs like San Francisco and New York City.
For real estate investors, Austin provides an opportunity to buy properties at reasonable prices that have great potential for price appreciation. Investors can still find good deals on rental properties and flip opportunities compared to overheated coastal markets.
Factors Keeping Austin Prices Lower
Texas has pro-development policies that facilitate new construction, such as no state income tax, low property taxes, and developer-friendly regulations.
The lower cost of living and doing business in Austin compared to Silicon Valley has attracted companies, keeping salaries more affordable.
However, prices are rapidly escalating as population growth outpaces new housing supply. Investors should act quickly to capitalize on Austin's relative affordability before prices move closer to other tech hub levels.
Prime Areas to Target
Investors should focus on neighborhoods with an influx of tech workers but still having relatively reasonable median prices. One emerging trend in downtown Austin is the rise of luxury condominiums tailored for the modern urbanite. Specifically, Natiivo Austin condos for sale have piqued the interest of many.
Located in the heart of downtown Austin, Natiivo condos not only offer luxury living but are also zoned as a hotel, which means that owners can short-term and long-term rent their condos without restrictions. This is a great starting point for investors looking to enter the Austin real estate market.
Besides Downtown Austin, top areas fitting this criteria also include:
South Austin
North Austin
Northwest Austin
Southwest Austin
2. Thriving Tech, Business, and Cultural Scenes
Austin is known for its vibrant culture, which includes a thriving music scene, arts scene, and food scene. Outdoor amenities like hiking, biking, and the picturesque Lake Austin waterfront provide a strong quality of life.
This makes the city a desirable place to live and work, which further drives up demand for housing.
Austin is also home to a number of Fortune 500 companies, as well as a growing tech startup scene. Major tech employers like Dell, IBM, Apple, Amazon, Facebook, and Google provide high-paying jobs in software engineering, management, and other fields.
Key Demographics Moving to Austin
The tech industry and cultural attractions appeal to young professionals and millennials.
Austin's strong economy, top-ranked schools, and family-friendly lifestyle attract families.
Austin's warm climate, no state income tax, and leisure and entertainment options appeal to retirees.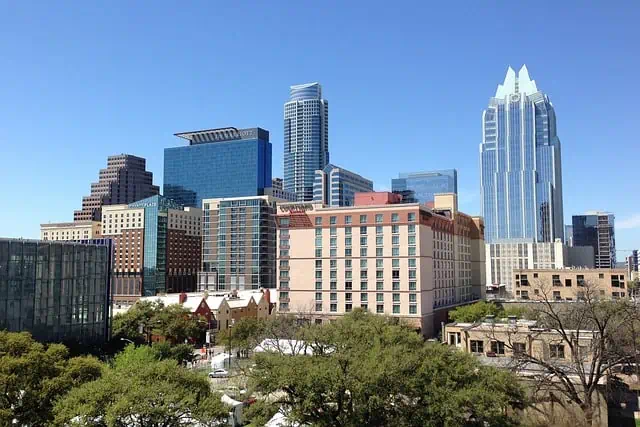 3. Increased Migration from Costly Cities
Austin has seen a major influx of residents migrating from expensive cities like California, Seattle, and New York. This migration trend accelerated during the pandemic as remote work allowed tech workers and professionals to relocate.
Austin's lower cost of living, warm climate, vibrant cultural scene, and outdoor lifestyle make it an appealing destination for those fleeing high prices. And this benefits Austin's housing demand.
This influx of residents from higher-cost areas will continue applying upward pressure on Austin's housing prices. Investors should target investment properties in the areas seeing the most relocations.
4. Rental Demand Exceeds Supply
Austin faces a major housing shortage, with demand for rentals far exceeding supply. The rental vacancy rate in Austin stands at around 5.8%.
This extremely tight rental market makes it easier for real estate investors to find tenants, charge premium rents, and generate strong cash flow. However, the fierce competition also drives up property prices.
Strategies for Investors
Target homes priced slightly below neighborhood medians that need light cosmetic upgrades to force appreciation through value-added improvements.
Focus on neighborhoods along major employment areas and public transit lines that attract renters.
Emphasize amenity-rich properties near entertainment districts, nightlife hubs, and outdoor recreation.
Provide smart home technology and upscale finishes to command top rents.
Build a portfolio of multiple properties to maximize economies of scale.
Leveraging these approaches can help investors capitalize on the supply-demand imbalance and get strong returns.
5. No State Income Tax
Texas has no state income tax, which provides financial benefits for both residents and businesses. This tax advantage makes Austin an appealing location for investors, professionals, and companies looking to reduce their tax burden.
Benefits for Residents
Residents get to keep more of their earned income without paying state income taxes.
Property taxes and sales tax are lower compared to states with income tax.
Retirees specifically benefit from keeping pensions, Social Security, and investments untaxed.
Having no state income tax leaves residents with more disposable income to spend locally or invest. It also makes Texas more financially attractive for high-earning, skilled professionals.
Benefits for Businesses
Companies save tremendously on operating costs without a state income tax
This tax advantage allows businesses to be more profitable and competitive
Technology companies have been incentivized to relocate operations to Austin specifically for the tax benefits
The tax savings allow companies to reinvest in growth, hire more employees, and offer higher salaries. This strengthens Austin's economy and creates more high-paying jobs.
Impacts on Real Estate
No income tax makes Austin appealing for relocations, fueling housing demand.
Businesses expanding locally increase demand for commercial real estate.
Investors keep more rental income without state taxes reducing profits.
Conclusion
Austin is a great place to invest in real estate because it is growing rapidly, has a strong economy, a well-educated workforce, and a relatively affordable cost of living. It is one of the fastest-growing cities in the United States, which is driving up demand for housing, making it suitable for real estate investors.
For both rental income potential and long-term home value appreciation, Austin is poised to remain one of the hottest real estate markets for years to come.