Instagram is not a useful social media platform for everyone. People spend too much time on the platform for nothing special. However, simply logging out is not adequate to prevent wasting time scrolling the feeds. When you feel Instagram is not for you or want to take a break from the platform, deactivating or deleting the account is the only solution.
Want to Delete Your Instagram Account? Follow the Right Steps
In today's day and age, social media has become one of the most essential essences of our lives. Instagram is one of the most used platforms for sharing short videos and photos. Initially, the platform was popular among celebrities, but now it is used by individuals to display their work, their photography or highlight public issues. Nevertheless, like other social media platforms, Instagram also is used to spread posts and news that are many times fake and broadcast misinformation. This is the reason why many people permanently delete or deactivate Instagram.
When it comes to deactivating the Instagram account, there are two options. You can either deactivate the account temporarily or permanently delete your profile which will remove all photos, videos, likes, comments, and followers list.
What information Instagram has about you
Instagram stores all the images, videos, and data that connects the followers and other users to them. Also, the platform stores your geolocational information, i.e. where you took those images or videos. Instagram, moreover, tracks your device, records the transactional information you make through Facebook, stores all your facial recognition information, your messages, your texts, and your contacts. This invasive platform embeds itself in your confidentiality. The data storing itself is more than sufficient to make a user learn how to delete an Instagram account.
How to Delete Instagram Account Shortcut
1. Go to Instagram's Delete Your Account page
2. Select your reason for deleting Instagram permanently from the drop-down menu
3. Re-enter your password and click 'Permanently delete my account'
How to delete Instagram account
Key things to understand about deleting the Instagram account
There are two different methods to get yourself away from the Instagram account. What method you should choose depends on the device you use.
Also, once the account is deleted all your data, including your images, followers list, likes, will disappear and you can never get them again.
If you want to delete your Instagram account permanently, there are some different steps to follow. However, deleting the account, as the term itself says, means getting out the platform completely. To do so, follow the steps through the web browser.
1. Log in to your Instagram account
Log into your account via the web browser; i.e. through the Instagram website www.instagram.com

2. Delete Your Account
Via the account deletion link, go to 'Delete Your Account' page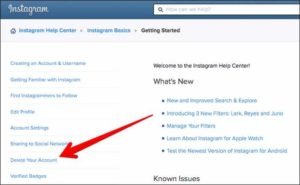 3. Why do you want to delete your account?
You will need to answer "why do you want to delete your account?" Answer the question to move ahead.

4. Permanently delete my account
Tap the 'Permanently delete my account' button. And, finally, it's done.
Once the account is permanently deleted, all the content and information you have uploaded on the platform will be eliminated permanently leaving no opportunity to get them back. After a certain period, your Instagram username will be available for some other person to sign up. Indeed, your old data will no longer be there. Let's make it easier, someone can sign up using the username you used to log in, but will not be similar to what you used back then.
Can I delete my Instagram account via an Android or iOS device?
As mentioned before, NO!
Android is one of the commonly used operating systems for Instagram. However, it is unfortunately not possible to delete your Instagram account through your Android mobile device. To do it, you have to sign in through the website and follow the steps.
The same rule is applied to all mobile operating systems. However, the sole purpose of this restriction is the users' safety.
Can I delete an account that doesn't belong to me?
This is indeed a frequently asked question. If your underage child has created an Instagram account, you might wish to delete it for various purposes. Of course, you can delete the account if you know the username and password. But, do you think it would be easy to get the password from a child? However, you cannot ask Instagram to remove the account since it would be a violation of the privacy and security regulations. Let your child get a clear idea of why you want to delete the account.
How to deactivate Instagram account
If you want to use the account again after sometime, deactivation is the right option.
Deactivating the account is a temporary solution. Follow the steps if you want to stay away from Instagram for a few days or months.
1. Log in to your Instagram account
Log into your account either via your Smartphone or Computer. If you are using a Computer visit https://instagram.com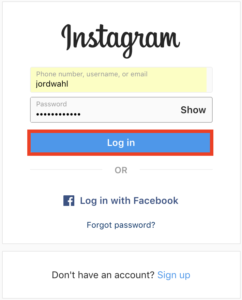 2. Edit Profile
Get into your profile. Click the 'Edit Profile' button.

3. Temporarily Disable my account
Scroll down! You will find the 'Temporarily Disable my account' button. Click the option.

4. Why are you disabling your account?
Instagram will take you to a drop-down menu where you will pick a valid option from the given menu to answer "why are you disabling your account?"
Here you will re-enter your password. The drop-down menu will include-
Can't find people to follow
Concerned about my data
Just need a break
Privacy concerns
Too busy/too distracting
Too many ads
Want to remove something
Something else, if you don't want to specify the reason for deactivating the account
5. Temporarily disable account
Here comes the final step, press the Temporarily disable account button to complete the deactivation process.
Once the account is deactivated, you can get back in just by reactivating it. Simply log in back. All your information, photos, likes, and comments will be hidden until you sign back in. To note, you can deactivate Instagram once a week only.
Instagram offers you an option where you can privatize your posts or block people. However, rather than deactivating the account, you can make some changes to modify your settings for privacy and preferences.
How to reactivate the Instagram account
When you're ready to join the Instagram community once again, maybe to make a smart Instagram grid, you can reactivate your deactivated account.
To do so, all you have to do is log in to your Instagram account over.
Go to https://www.instagram.com/ and log in with your username and password to restore your disabled account.
Come To A Decision
The only thing you need to make sure that once you delete Instagram, all your data on the platform will disappear. Retrieving those data is unfortunately impossible. Your content, likes, comments, messages, following and followers list, everything will be erased. There won't be any way to turn back once the account is deleted.
Deleting an Instagram account permanently is only possible via the web application. There is no tab available to do it via any smartphone brand. However, if you feel like taking a break from Instagram App for a few days or months it is advisable to deactivate it temporarily, else deleting is the best option.
Searches Related to How to Delete Instagram Account

1. How do I delete my Instagram account permanently?
2. How do you delete an Instagram account on a phone?
3. Where is the delete account page on Instagram?
4. How do you delete Instagram on Android?
5. How do I delete my Instagram account on my phone 2019?
6. How do I delete my Instagram account 2019 android?
7. How do I permanently delete my Instagram account on Android?