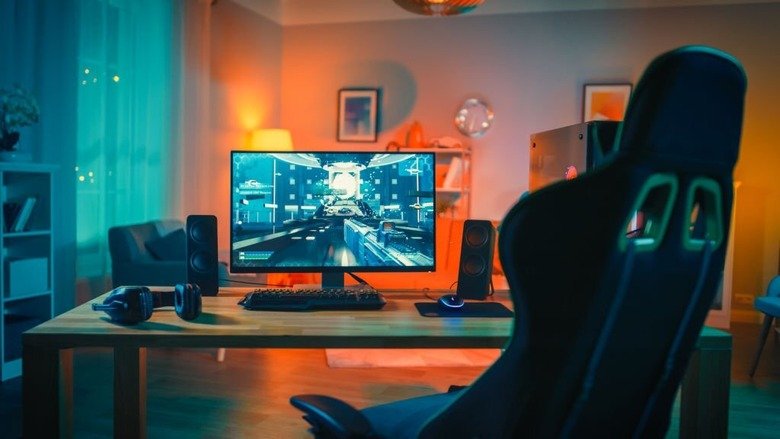 Having extra space in your home is a great privilege and can be a wonderful opportunity to create a dream room that you are going to be able to enjoy using regularly. If you enjoy gaming, you will know that the environment in which you play can make a very big difference to your overall playing experience. If you are thinking about creating your very own gaming room at home, then this guide is here to help by showing you some of our top tips.
1. Think about the Layout
One of the first steps that you will need to take when you are creating an ultimate gaming room in your home is to think about the setup. You should spend some time thinking about the space that you have available to you. You should take note of both the size of the room and the shape to think about what you will be able to comfortably fit in the room and where certain items should go. Spending some time thinking about the layout of the room and designing your space accordingly will help to ensure the following steps can be implemented more smoothly.
2. Consider the Lighting
Once you have spent some time thinking about the layout of the room it is time to consider the lighting. When you are playing video games you will of course avoid placing your screen in a location where you will get any direct lighting on the screen as this will limit the overall playing experience. If you cannot avoid any direct lighting on your screen then you might want to consider investing in some blackout blinds or curtains.
Although you will not want to have direct lighting on your screen, that does not mean that you should be playing in pitch black. Playing video games in the complete dark can actually damage your eyesight over time. Once you have worked out your overall lighting you should consider investing in some low-light lamps or LEDs that you can connect to your PC to enhance your overall gaming experience.
3. Choosing the Right Furniture
Once you have a better idea of where you will be placing certain items within the room you can start thinking about what furniture you will be using in your new gaming room. When you are looking to choose the furniture that you will be using in your gaming room you should think about where you most enjoy gaming. For example, if you are going to be playing with a console and TV then you should look for a comfortable sofa that will offer you the right level of back support.
If you are going to be gaming mostly on a PC then you should invest in a high-quality gaming chair and desk. A high-quality gaming chair can be hugely important as it will provide you with the right head, neck and back support which can help you to avoid incurring injuries. Similarly, your gaming desk should suit your body type and your setup. You should make sure you have enough room to comfortably move your legs under your desk and that the top of the desk space can easily fit your monitor, keyboard, speakers and any other equipment you might need.
4. Storage
Storage is another very important consideration that you should keep in mind when you are looking to create the ideal gaming setup in your home. Having the right amount of storage in your room will help to ensure that you are able to keep everything clean and tidy. When you are looking into investing in storage for your gaming room, you should consider not only what you are going to be using the storage for – namely how much space you will need – but also where the ideal storage location is. You might want to make your storage station easily accessible to ensure it is as useful as possible.
5. Create the Right Atmosphere
Now that you have got all the necessities of your gaming room set up you can start thinking about how you can improve the overall atmosphere of the room. You might want to think about adding some extras into the space such as themed décor or bartop arcade machines to make it a more fun environment. Adding in some extra seating can also be a great way to make your gaming room more welcoming for friends that want to come and play with you.
You should also consider what you can do with empty wall space that might be on show in your gaming room. Of course, you don't need to completely fill all the space in your gaming room but adding in some extras can go a long way to improve the overall feel of the room. You should consider adding in some graphic art or posters of your favourite games to ensure the best gaming room atmosphere.