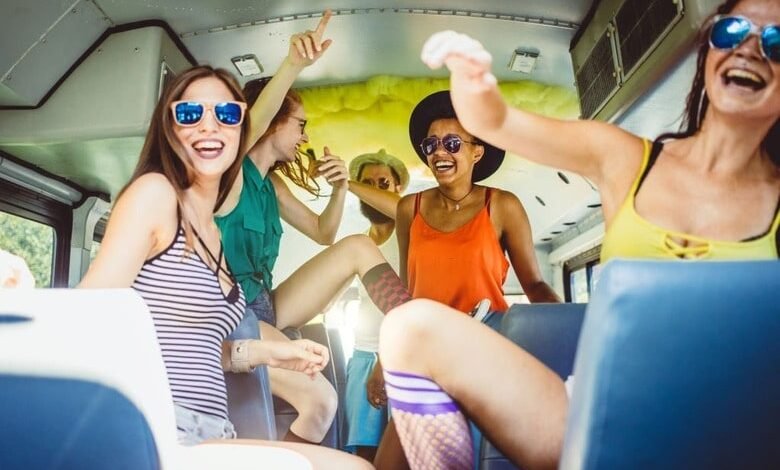 Party buses have become a popular means of transportation for weddings, graduations, and even birthdays in recent years. Engaging in such activity on a memorable day is a pleasurable way to spend the day. On the other hand, we are all aware that everything has rules, including acceptable behavior on party buses. Before renting this car, you must educate yourself on a few foundational etiquette rules. Following these rules lets you have a great time without encountering problems.
1. Follow the law strictly:
Make sure you are familiar with the rules governing the consumption of alcoholic beverages in your area before booking a party bus. While drinking is permitted on the party bus, it is still illegal for anyone under 21; we strongly advise you to follow this prohibition. If you intend to invite anyone under the legal drinking age, let them know in advance that they won't be able to drink on the party bus. By doing so, people will be sure to understand what they can and cannot expect from the event. If you and the party bus driver disobey this instruction, there's a chance that both of you will run into issues and have to face serious legal and financial implications. Therefore, while you and your pals are on the party bus, we strongly advise that you remember the law and behave in a consistent way.
2. Bring your IDs
When you reserve a bus party, you must provide your contact information to confirm the reservation. Before you may board the bus, the bus driver will require you to show them your identification. This will enable the driver to confirm that you are who you say you are by cross-referencing the information on your ID with the bus company's records. Everyone riding the party bus should always try to have a legitimate form of identification on them. Most party bus drivers will not let you enter the vehicle if they cannot positively identify you because doing so would put them in an awkward situation. To ensure that everything goes off without a hitch, we strongly advise that you give this some thought in advance, agree with someone else about it, and bring any necessary papers to the party.
3. Be polite:
Even though it is acceptable to drink on a party bus and being drunk while riding one is not uncommon, this does not mean that people should act inappropriately while on the vehicle. Remember that the bus driver is just a driver and should not be telling you to be polite because they are not your babysitter. Neither you nor your visitors should tolerate or allow conduct that makes others uncomfortable or impolite. It is unnecessary to shout, curse, or act in any other way that is regarded as inappropriate to have a good time. We advise you to drink responsibly and to show consideration for others.
Conversely, if you choose the wrong party bus rentals, even if you strictly followed all etiquette guidelines, you can still find yourself in unfavorable situations. If you're looking for a party bus in Chicago, we advise you to find a rental company that is reliable and competent. This will guarantee that the day in question will go without a hitch.
4. Don't make any alterations to the party bus's condition:
You must ensure that the party bus is returned in the same condition that you found it in if you want to be a good customer and observe the customs of politeness on one. By doing this, you can avoid making a mess on the bus that you might have to clean up once the celebration ends. Customers who act this way are extremely unpopular. Thus we strongly advise you not to join their ranks. Please take every precaution to prevent accidents from ruining the celebration. If something unforeseen happens, please let the driver know quickly and offer to make it right. It's acceptable for certain things to happen entirely by accident; what matters is that you accept responsibility for them to show that you are accountable and do not want to harm anyone.
5. Don't forget to thank the driver:
Giving the party bus driver a tip is a terrific way to make a good impression and guarantee that your subsequent trips will be equally cozy and fun. Since your driver puts a lot of effort, time, and service into their job, you shouldn't do it to profit yourself; rather, you should do it to show appreciation. This is especially true for party bus drivers who go out of their way to be kind and amusing and positively influence the atmosphere on board. You need to express your appreciation for that and tell them how much you value their work.
6. Be mindful of the rental period:
Party bus festivities are usually a lot of fun and fly by very quickly, so we advise keeping a tight eye on the time. Make a plan for your time on the bus and arrange it so you may finish all your tasks within the pre-agreed rental period. You are responsible for tidying up the area after the specified time, taking out the trash, and leaving promptly. Avoid procrastinating beyond what is necessary to avoid making the party bus driver late for the next stop.
7. Additional etiquette advice:
In addition to everything that has been addressed so far, you should consider a few other factors before hiring a party bus. It would help to keep your cigarettes somewhere else for the party since smoking is prohibited on the party bus. Putting your feet in the seating area is exceedingly rude, and if you do, the furniture might even sustain irreversible damage. When getting up, make sure you have something solid to stand on and hold onto so you don't fall and damage yourself. It would help if you didn't throw things on the bus. Do not run onto the bus, shout at other passengers, or engage in conflict. Always behave politely and by the rules for appropriate behavior and conduct on the party bus.
Conclusion
All kinds of occasions, such as weddings, birthday parties, and anniversaries, are now frequently transported by party buses. However, it is essential to abide by established etiquette rules to have the most enjoyment and guarantee that everything runs properly during your party bus adventure. If you proceed this way, you and your guests will be sure to have a nice time, and you won't have to worry about anything unexpected or unpleasant occurring during the event.