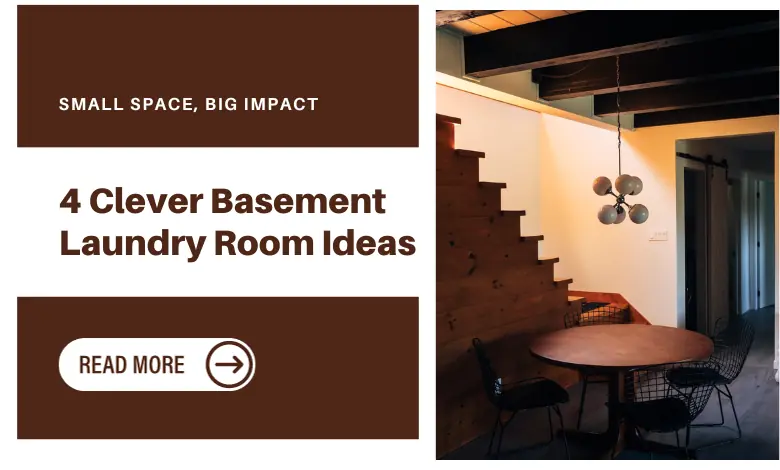 A basement laundry room can turn into more than a space for your clothes. Now, you might think, how can a room that small turn into something more? If that's the case, we have the answers you need.
With the right plans, your laundry room can transform into another functional space. Sometimes, you don't even have to renovate it at all! But how can you do this?
Here are four basement laundry room ideas to help you get the most out of your space.
1. Optimize Wall Space
A basement laundry room usually uses up only the floor space since you have your clothing baskets, washing machine, and other appliances. But have you ever thought of looking up? When you run out of room on the ground, you may want to consider your walls!
You can make the most of your wall space by installing open shelves or hanging cabinets. These clever storage solutions will help you neatly organize your belongings, beyond laundry essentials.
Other storage tips for using your walls include adding a mounted dry rack for more space efficiency when doing your laundry. This way, you can use cabinets and shelves for more items besides your clothes.
2. Add Multipurpose Furniture
With a basement laundry room, you usually have limited space to work with. So, it's crucial to make sure you use it efficiently. One way around that is by considering multipurpose furniture.
This includes anything from tables with built-in shelves or an Ottoman with hidden storage. It's a great way to keep things looking organized while allowing you to get the most out of the available room.
Note that you still want to consider practicality before installing these solutions in the room. For example, it's better to add a pull out ironing bed in a cabinet instead of a chair that doubles as a storage box. This is because you will likely iron out clothes in the room rather than sit and wait.
3. Consider a Stackable Washer and Dryer
Every square foot counts when you're dealing with limited floor space, and a basement laundry room is the perfect example. You want to make sure you have enough space for your appliances and laundry essentials.
A great way around it is by getting a stackable washer and dryer. This way, you can use the remaining floor space for other storage and items.
It also helps to consider other vertical solutions, like a ceiling dryer. In this case, you may want to check waterproofing basement tips to avoid mold growth and humidity increase. Make sure you read more about this before you begin.
4. Light It Up
Whether you're doing laundry in the basement or thinking of renovating, your lights play a vital role. It's a great way to make the room feel bigger and more inviting.
When choosing basement lighting, you also want to consider different fixtures and placements. For example, you can add under-cabinet lights and lamp scones on each corner.
This way, you can make the room more functional since there's enough light to work on different tasks.
Maximize Small Spaces With These Basement Laundry Room Ideas
You can make the most out of small spaces around the house with the right tips. A couple of basement laundry room ideas include improving lighting, organization, and storage. With these, your laundry room can serve more than a single purpose!
Check out the rest of our blog for more tips.